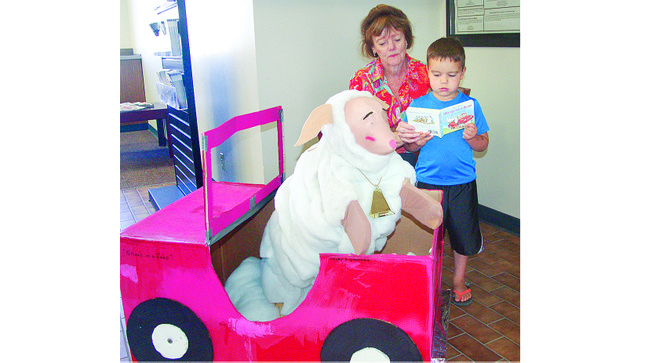 Taking a theme from one of her grandson Colby Castle's favorite books, Martina Charvet created an adorable sheep to help promote the 2014 Yakima Valley Fair and Rodeo.
This year's fair and rodeo theme is "Flock to the Fair." Her grandson's favorite book is "Sheep in a Jeep."
"Colby wanted to do something for the fair so we did this," explained Charvet, a Yakima Valley Fair Foundation board member.
A number of individuals and groups throughout the Lower Valley were given an opportunity to transform a three-foot wooden sawhorse into a sheep as advertisement for the fair, which will again be held at the Country Park fairgrounds in Grandview.
Last week Charvet and her grandson delivered the red jeep and sheep to the lobby of the Sunnyside branch of US Bank, where it will remain on display until fair week, Aug. 6-9.
Colby, who is five, said he wanted to make the fair display out of Legos. "And I did," he said. But to do a full-size rendition of the mascot from his favorite storybook would have cost a lot of money, said his grandmother.
"So we created a cardboard jeep to go with our sawhorse sheep," she explained.
The fair will open Wednesday, Aug. 6, at noon at Country Fair Park, where all of the sawhorse sheep will be used to decorate the animal barns and display buildings.
"Be sure to look for our sheep at the fair," Charvet said.
For more information about the fair and rodeo activities visit www.Yvfair-rodeo.org.