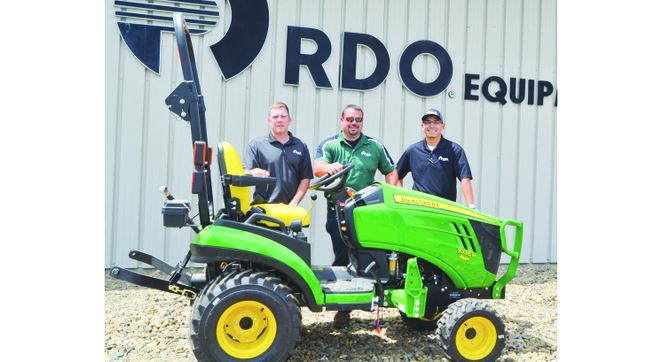 GRANDVIEW - Those 55 and older, or who have a disability, can enjoy the free shuttle service being provided at this year's Yakima Valley Fair & Rodeo in Grandview.
The Foundation for the Yakima Valley Fair & Rodeo coordinated the effort to introduce shuttle services last year. The group has this year worked with RDO Equipment Co. in Sunnyside to again offer the service.
RDO, in cooperation with Grandview's K and D Machinery in Grandview, is donating a tractor and trailer that will hold eight fairgoers.
"The trailer is being custom made by Aaron Weets," said RDO Manager Travis Hanger.
Joanne Vining, a member of the foundation's board, said the shuttle service will make it easier for all people to attend and enjoy the fair.
This is the second year the shuttle service will be provided for seniors and disabled individuals. Vining said the foundation hopes it is well received.
In addition to the tractor and trailer there will be golf carts shuttling individuals around the fairgrounds. Last year a number of fair patrons used this service.
"The golf carts (shuttles) are being provided by two businesses," Vining said, stating sponsors of the service include C. Speck Motors of Sunnyside and Willow Crest Winery of Prosser.
"We used the carts last year and many people were very thankful for the ride to various buildings and other activities," said Vining.
The shuttle will make three stops within the fairgrounds. The main pick-up area will be at the Yakima Valley Fair & Rodeo's main entry.
Signs will be posted at each of the shuttle service drop-off and pick-up areas. The signs were donated by Pepsi.
The Yakima Valley Fair & Rodeo is set for Wednesday, Aug. 6, through Saturday, Aug. 9.
Drivers for this service are needed. They must be over the age of 24, helping individuals get to and from various locations at the Yakima Valley Fair & Rodeo.
Anyone interested in driving a shuttle can call Jake Van Pelt at 840-3230 or Vining at 882-2320.
"We are very thankful to the people who volunteer their time," said Vining.