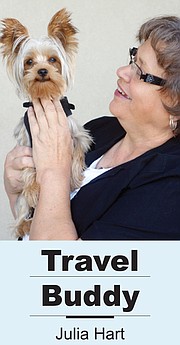 Buddy and I received word late last week that my sister's faithful Chihuahua, "Angel," had been hit by a car and hadn't survived.
Peggy and Angel were inseparable. She raised Angel from a puppy and the dog was at least 13-years-old.
Buddy had met Angel a few times and they got along just fine. We both know my sister Peggy is devastated by her canine loss.
Angel was a true companion, loyal and never a bother. I can't even begin to think how very hard my sister is taking the death of her dog.
I only know that lately every time Buddy escapes the yard for a quick run, I panic. I'm worried he will also be accidently hit by a car. He is so tiny, it wouldn't take too much to fatally injure my Yorkie.
But my telling Buddy about the circumstances of Angel's death probably won't serve as much of a cautionary tale. Buddy's occasional neighborhood roams are his chance to chase cats. He always comes back with a smug look on his chops, while acting a little sorry for not coming when I call him.
It sounds cold blooded to say it was better that Angel was killed outright in the hit and run accident. I don't know how my sister would have been able to pay for veterinary bills if he had survived being hit. Peggy doesn't have doggie insurance. In fact, few of us do.
But in thinking about Angel's death and the possibility that Buddy might one day need medical attention, I have started looking into what types of canine insurance may be available to us.
There are a few out there with names like Healthy Paws and Trupanion. Although I didn't catch the name of the company that allows its insurance adjusters to bring their cats and dogs to work, I sort of like that one. I'm sure Buddy would also like insurance coverage from a company that is so pet friendly.
I did find a website that rates pet insurance companies. Called the consumersadvocate.org website, it lists its top 10 insurance companies that specialize in coverage for our animals.
Buddy and I have several to choose from, all priced differently and offering varied plans.
In order to afford Buddy's insurance coverage, he may have to cut back on his after dinner doggie treats and perhaps give up a few new doggy toy purchases.
In the meantime, Buddy and I have to make a sympathy visit to Peggy to offer our condolences.
I know Peggy won't want to think about a new dog for a while, but perhaps Buddy will cheer her up a little. I hope so.