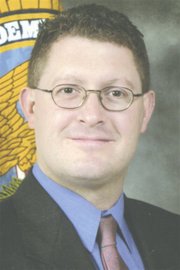 Sunnyside Police Commander Phil Schenck will be leaving the city to take a position as the police chief of Othello.
Schenck, who also served as acting police chief during Sunnyside's recent search for a new head officer, will start his new job on Monday, Aug. 11.
Othello City Administrator Wade Farris said the city did an extensive search for a new police chief.
"We felt like, out of 31 candidates, that he was the best guy for the job," said Farris.
Schenck was officially selected as Othello's new chief on Monday, July 14.
Schenck said the local police staff is aware of his departure, although he has not yet submitted his formal letter of resignation to the city of Sunnyside. His resignation letter will be submitted this week, he said.
"It has been an honor to serve the community of Sunnyside, my hometown, for nearly 25 years," said Schenck. He would have celebrated 25 years of work in Sunnyside in September.
He said he will miss his friends, but he and his wife, Jessica, are looking forward to becoming a part of the community of Othello "…as we follow where God is leading us in this new adventure."
Sunnyside City Manager Don Day said although he has not received Schenck's resignation yet, he is aware of the offer from Othello.
"We thank him for his service and time in the city," said Day. "We wish him all the best luck."
Sunnyside Mayor Jim Restucci said Schenck is known in Sunnyside for his community service efforts as well as his law enforcement experience.
"I wish him well," said Restucci. "He did an outstanding job as a law enforcement official for our city."
He said he thinks the opportunity to serve as police chief in Othello is a positive for Schenck.
"I'm happy for Phil."
He said Schenck will have the opportunity to put his experience and skills to good use in Othello.
"He will have an opportunity to make the Othello Police Department what he wants to make it," said Restucci.
He said Schenck also served honorably for the city of Sunnyside, filling in when the city was without a police chief. "He performed to my satisfaction," Restucci said. "He worked with our kids… he did a good job with the gang-free initiative. I appreciate his service to our community."
Sunnyside Police Chief Al Escalera said the department is excited for Schenck.
"This is something he's been pursuing for quite some time," said Escalera. "We're very happy for him. He's done a great job for us."
Escalera said Schenck has spent a lot of time investing in Sunnyside. He said the experience and knowledge he's gained can now go to helping another community.
"We are losing a tremendous amount of institutional knowledge with him leaving," he said. "We will move forward and change, and he'll take what he's learned and have a chance to grow and develop. We applaud him for that. I wish him well."
Schenck's last week in Sunnyside will be the first week of August.
"I'm proud of this department (Sunnyside) and the exceptional officers I've been privileged to work with," said Schenck.