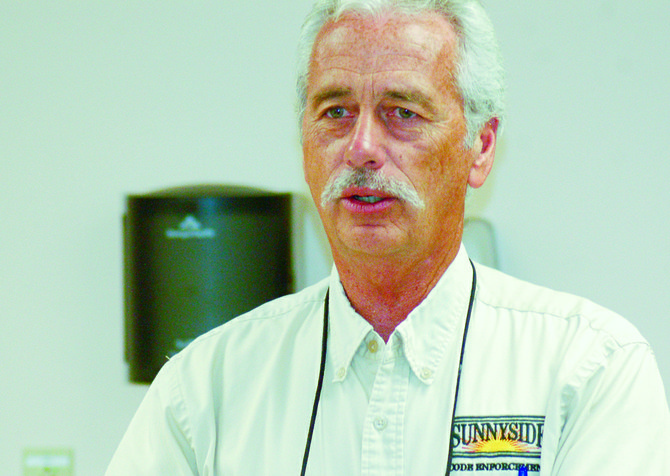 Being the code enforcement officer is the toughest job Jim Rivard has ever had.
Since taking the job as Sunnyside's city code enforcement officer, Rivard has been threatened and attacked by city code violators.
He learned pretty quickly that people don't like being told their lawns needs to be mowed, their weeds are too tall and their so-called vintage cars need to be hauled to the junkyard.
"They really get upset when you tell them that their homes are substandard. Or that they can't live there anymore and the structure is about to be condemned," he added.
As a former police officer, Rivard said he knew how to handle an aggressive person, trying to attack him. "You cuffed them and hauled them off to jail," he said.
"Now when I get into trouble with city code violators, I have to call for help," the guest speaker told the members of the Sunnyside Daybreak Rotary Club Wednesday morning.
Rivard joined the city code enforcement department back in 2006 after more than 20 years on the job as a Sunnyside police officer.
Rivard admits his job is sometimes very difficult, "… especially when you arrive at a resident's home and have to remove more than 20 tons worth of trash, while the resident's family gets angry with you.
"I have to tell people that cleaning up the trash, removing the abandoned vehicles and condemning their houses, is all about health and safety codes, set by the city and the state," Rivard explained.
Tracking down graffiti-spattered walls and fences and encouraging property owners to paint over the ugly tagging is another big part of his duties. "But we work hard to keep it under control," he said.
In a recent report that Rivard presented to the Sunnyside City Council, he said he had handled 900 cases of code violations this year.

Rivard does get some help with his clean-up efforts, making use of the city's court-ordered community service workers. He reports that a volunteer will work upwards of 138 hours a month picking up trash on city streets, parks, alleys, and mowing or pulling weeds.
Rivard said despite its hazards, he likes his job and likes helping to maintain the public image of the community.
"Sunnyside is a great place to live and I like being able to help keep it looking nice," he added.