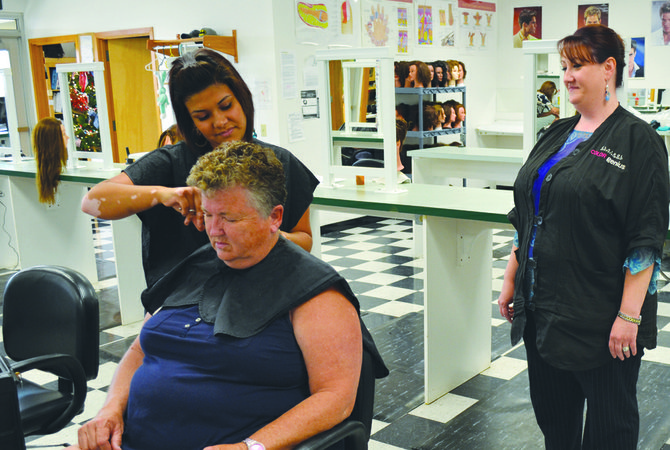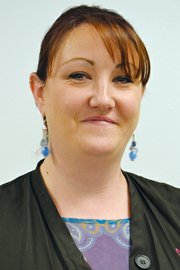 Kristin Chester's students are constant cut-ups.
And for Chester, that's a good thing.
She's the floor instructor at Sunnyside Beauty Academy, 440 Barnard Blvd., and supervises as students cut, trim and provide hair dos for the school's patrons.
"I make sure nobody walks out of here with a bad haircut," she smiles.
Chester has been a licensed hairdresser for 14 years, and became the academy's floor instructor about two years ago.
She says the regular 8 a.m. to 5 p.m. hours allow her to be more available for her family.
A big part of her work is not only instruction, but standing back and observing as students demonstrate the basics of what they've learned.
And teaching those basics can sometimes be a challenge.
"I'm a visual learner, so I tend to be a visual teacher," she said. "I need to work on explaining things."
Summer's triple-digit temps means that Chester gets to help her students especially focus on seasonal favorites, such as short hairstyles and perms. "It's a big perm time," Chester notes. "When it's so warm people want something that's quick, wash and wear."
She said teaching how to do a perm is relatively simple. More challenging is a blend with a clipper cut. "That transition from shorter to longer (hair) isn't easy," Chester says.
The academy also offers pedicures and manicures. Instructing students on performing those is pretty straight forward and allows Chester to focus on visual cues. "I teach by doing. I'll do the first nail or two to show them, then guide them as they do the rest," she says.
It's a fulfilling job, says Chester.
"My favorite thing is seeing the students pick things up…when they put two and two together," she says.