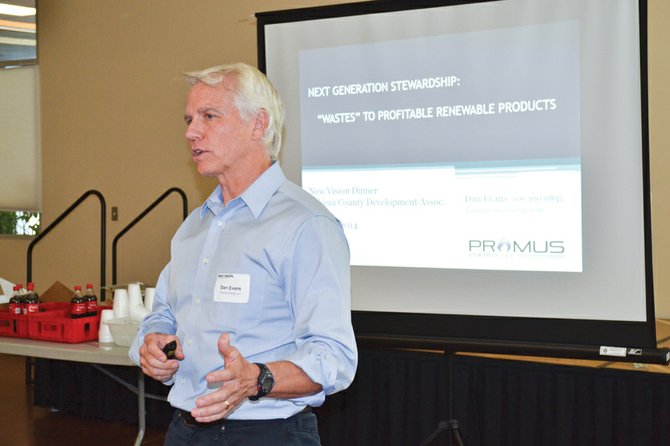 GRANGER - Turning lemons into lemonade. That's the essence of a program in the Outlook area pegged to turn cow manure into renewable natural gas.
Citing recent environmental and legal concerns facing dairies in the Lower Valley, Dan Evans of Promus Energy says that issue can turn into a positive by converting waste to a renewable resource in the form of natural gas.
Evans presented the project during the New Vision board meeting in Granger last night, Thursday.
Promus is already partnering with the George DeRuyter and Sons Dairy, which about seven years ago constructed an anaerobic digester to convert manure into electricity.
During his presentation, Evans noted DeRuyter's income from electrical sales had dropped and asserted that natural gas would result in a much larger return on investment.
He claims the time is now to pursue manure-into-natural gas conversions because the fuel is less costly than diesel, and that makes it more marketable to trucking and transportation companies.
"We can sell as much as we can produce," Evans told the New Vision board.
Working in partnership with Yakima County's Supporting Investments in Economic Development (SIED), Promus will lease from the county a natural gas pipeline to be built and connected to the DeRuyter and Sons Dairy and five other dairies. The pipeline will deliver the natural gas product to a regional network for wider distribution.
The pipeline received $1.4 million in SIED funds, and Promus will have to put up another $1.4 million for the 4-mile pipeline project.
The first step is funding, and Evans says investors have been lined up to fund the overall $50 million cost for the manure conversion projects at the six dairies.
Evans says financing should close by the end of September and the first two dairies, DeRuyter & Sons and DeRuyter D&A, should go on-line by the fall of 2015.
Besides a marketable, renewable fuel, the project will also create earth-friendly fertilizer.
Evans last night claimed the time is right, the time is now to get the project rolling in the Lower Yakima Valley.
"My father always told me to leave a place better than you found it," he said. "This is a chance to do just that."