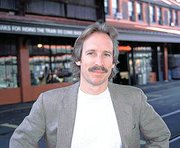 Kenny G and Jose Feliciano are some of the musicians who accompany Seattle native John Nilsen.
Nilsen, who began studying classical piano at age six, will be in concert at Sunnyside's United Methodist Church on Saturday, Aug. 9, at 7 p.m.
An eclectic artist inspired by jazz, classical and folk music, Nilsen is also an accomplished guitarist.
Nilsen founded his own recording label, Magic Wing, in 1987 and eight years later, his alma mater, Southern Oregon University, honored him with an outstanding achievement award.
His recordings over the past 30 years have garnered world-wide play, selling more than one million copies to date.
His piano concert in Sunnyside is free and open to the public at the United Methodist Church, corner of Eighth Street and Edison Avenue in Sunnyside.
Pastor Pat Beeman says the concert is free and the public is welcome to attend. A free-will offering will be collected.