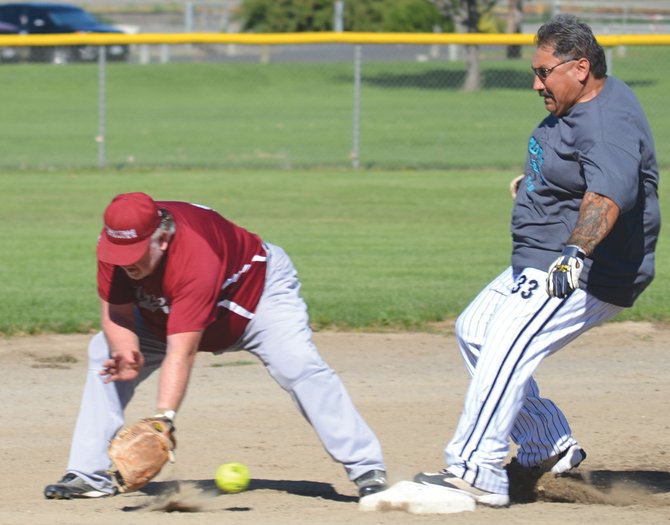 For one day, a Lower Valley team of AARP qualifiers turned back the clock and qualified for the championship game Sunday at the Old School Senior Softball Tournament at Sunnyview Park.
The local team, known appropriately as the Old Timers, rallied from a tough start on Saturday to punch its ticket to the title tilt.
The tourney was for men ages 50 and older. The oldest competitor at the fourth annual event was a 72-year-young player from Walla Walla.
The Old Timers squad was less than impressive last Saturday in losing all three games during the tourney's opening day. The squad fell 14-6 to the Illinois Avenue Bar & Grill team from Spokane, 17-10 to the Old Mill Bar & Grill, also from Spokane, and 11-10 to the Walla Walla 50's.
Saturday's play was all about seeding for Sunday's single elimination round, and an 0-3 record required the Old Timers to go up against the 3-0 top-seeded Old Mill outfit from Spokane.
With original starting pitcher Shane Fast out due to a sore shoulder, Leroy Senator took the mound Sunday for the Old Timers in a 14-11 upset victory.
"We played a lot better than on Saturday," said Bob Sarmiento, tourney organizer and Old Timers coach.
The surprise victory vaulted the Old Timers into Sunday's championship contest against the Walla Walla club. It was tougher sledding in the finale, as the local squad fell 23-13 to settle for runner-up honors.
Players from both teams in the championship game earned t-shirts, as did those selected to the all-tourney squad.
For the Old Timers, the only local club competing in the four-team tourney, the all-tourney honorees were Senator, pitcher; Ray Manjarrez, outfield; Gilbert Briones, third base; and Chino Esqueda, shortstop.
The old school tourney this year also benefitted from some young blood, as the local Young Guns slo-pitch team handled concessions and on-field maintenance.
Sarmiento said the original plan was for a six-team tourney of 50-and-older players with squads traveling here from Yakima and the Tri-Cities. "A lot of players from those two places wanted to play, but nobody took the lead to organize them," he said. "We'll try it again next year."
As for this year's tourney, Sarmiento said there were no pulled hammys or injuries from a weekend of play.
"We're all sore, but we stayed healthy," he said.