HOME COUNTRY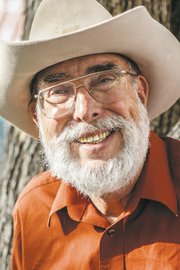 Dud Campbell, our resident would-be novelist, was busy on his day off. Anita watched him excitedly as he removed something from the box that had arrived.
It was a CD. And it was something he hadn't asked her about. Sometimes Dud just did things like that.
So here, on his day off, Dud was walking around the yard wearing ear buds and talking to himself. Anita opened the window and listened.
"Low," Dud said.
"Hi," said his wife.
Dud grinned. "No Honey, I said low, because low is French for water."
"We're going to France?!!!"
"Well, no. It's an experiment I'm doing for the book. I think maybe what the book needs is a touch of sophistication, you see. So I'm trying to find out what language the duchess might speak."
The Book, seven years in the crafting … so far … is a transcontinental miasma of mayhem, murder and passion that Dud calls "Murder in the Soggy Bottoms," but everyone else calls it "The Duchess and the Truck Driver."
There was this American truck driver, you see, who was sent on special assignment to the village below the duchess's castle … oh, you know.
"Anyway, Hon, I got this language sampler CD in the mail," Dud continued. "It has samples of a bunch of those European languages. I'm trying to find one for the duchess that sounds classy.
"I've ruled out German so far. It sounds angry. And some of the Slavic languages don't make sense. But French has possibilities, as well as Italian. They have duchesses in Italy and France, don't they?" Dud asked.
"Pretty sure they do, Dear," Anita said.
"See … what I have to do is find a language that I can write easily, then I can kinda sneak in some sophistication for the duchess, like having her order a glass of low instead of saying water, that kinda thing," Dud explained.
Anita gave that some thought. "You know, Sweetheart," she said, "a lot of those Europeans speak three or four languages. Maybe you could really make her sophisticated that way."
"Anita Campbell," he said, shaking his head, "you're giving me a brain burn, you know that?"