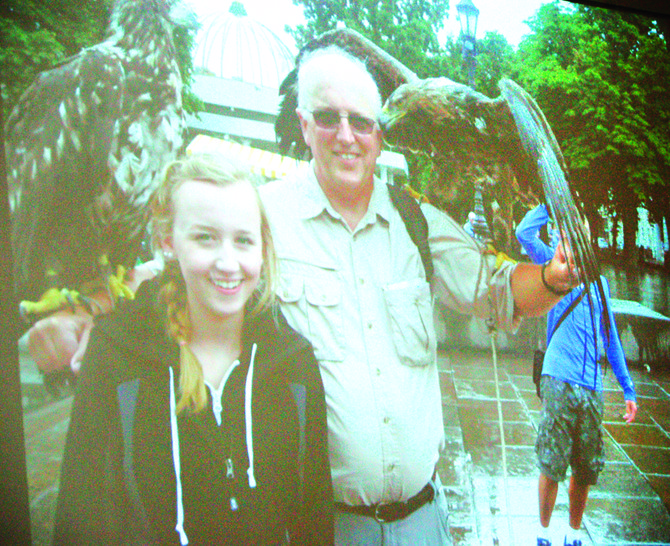 When Nick Friend first booked his cruise to Eastern Europe's Black Sea, he thought he might see more of the Ukraine.
"The war in the Ukraine changed that plan," he said.
What he saw instead was the countries of Turkey, Bulgaria and Romania with a quick day trip to the port city of Odessa.
"One woman there told us to let people know it was safe to come to Odessa," Friend told his fellow Daybreak Rotary Club members this morning (Wednesday).
"She said the war was killing the city's seaside tourist business," Friend said.
Friend, who shared slides and his impressions of his two-week tour of those Eastern European countries, said most of the cruise stayed close to the Turkey coastline.
"We did a number of trips to Istanbul and visited portions of Turkey countryside, which is very scenic," he said.
Friend also had an opportunity to see a portion of the famous Silk Road, and a lot of the Roman Empire influence which still is visible in the countryside.
"We also saw a lot of churches and bridges," Friend added.
The tourists were even able to visit a mosque, but asked not to take photographs of people praying, he explained.
His niece, Anikka Campbell, who accompanied her uncle on the trip, said she liked touring the churches. "They were beautiful," Campbell said.
The tour's day trips included walking the streets of the Black Sea port cities. They were also able to tour Bucharest, the capital of Romania.
"It is home to the second largest building in the world," Friend said.
"The Palace of the Parliament building is second in size only to our Pentagon," he said.
Friend said the family trip aboard the Star Pride of the Wind Star Cruise Line allowed him to gain a different perspective of the area.
The area is a mixture of modern conveniences next to primitive methods, he said.
"We saw greenhouses next to farmers using sickles to harvest hay. We saw concrete used as poles in vineyards and livestock markets on city streets," he said.
"It is a fascinating region," he added.