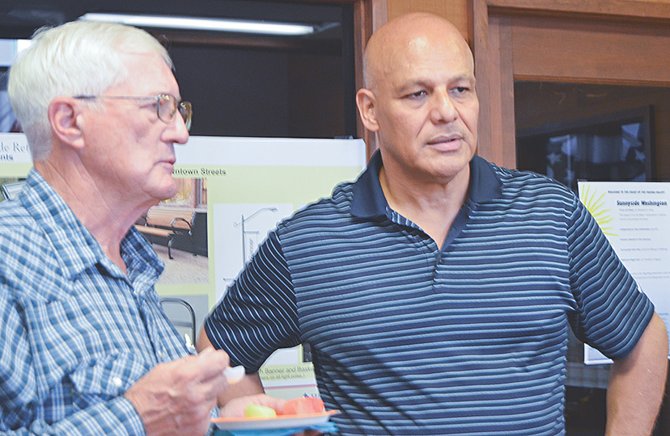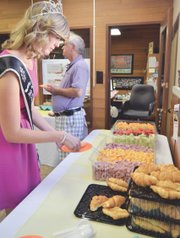 The Sunnyside Chamber of Commerce threw open its doors Wednesday night to the community.
Chamber board members were on hand to provide updates regarding current activities being supported by the chamber, including the chamber's partnership with the Sunnyside Parks and Recreation Department for a National Night Out block party at the Sunnyside Community Center next Tuesday night.
Those who attended the open house complimented the chamber board for its sponsorship of a concert held last Thursday night at Sunnyside's Centennial Square.
In response, the chamber is planning another musical at the bandstand to be held in late August, said Chamber Executive Director Pam Turner.
"We've invited the Grandview Church of the Nazarene church choir to perform at the bandstand on Thursday, Aug. 21," Turner said.
The music in the square is just one of the events the chamber board has focused on this year to draw more attention to the chamber and its mission of promoting tourism and the economic interest of the greater Sunnyside area.

According to Turner, that its mission includes all aspects of the economy from agriculture to civic developments, as well as industrial, commercial and cultural activities.
Chamber member Kristi Vlieger believes the chamber is trying to be attuned to events that bring people to town. "The chamber is working to ensure our events are tourist friendly," she said.
One such way to help market Sunnyside to the rest of the state is the chamber-sponsored Cinco de Mayo festival, said Silvia Ramos, chamber board member.
"That event alone brings more than 25,000 people to town," she said, adding that many of those visitors "…come just to see the unique style of the beautiful Spanish horses," Ramos added.
Ramos also points to the chamber's annual event in December as a big tourist attraction.
"The annual Lighted Farm Implement Parade attracts so many out of town visitors that some of our parking lots start looking like RV parks," she added.
"We want to be here when those tourists decide they want to move here and begin their businesses in Sunnyside," Ramos said.
In addition to its sponsorship of the community's two largest tourist attractions, the chamber of commerce board is forming new partnerships with such economic-focus groups as the Sunnyside Downtown Improvement Group.
Together, the chamber and the downtown groups are hosting a series of business education seminars to aid and inspire downtown businesses with providing quality customer service.
Those who attended last night's chamber open house received a gracious welcome from the current Miss Sunnyside Court.
Turner and Chamber President Teri Alvarez-Ziegler spent the past week hand delivering the open house invitations to local chamber members. They also conducted a membership drive, introducing the chamber to non-chamber members, Turner explained.
"We really believe our downtown's new look will be a help in attracting more businesses to Sunnyside," said Vlieger.