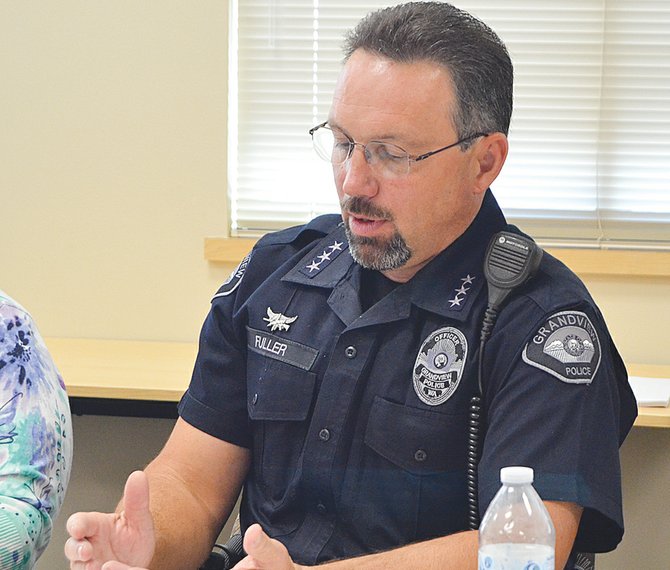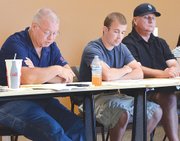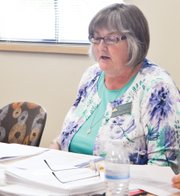 GRANDVIEW – Gearing up for the 2015 fiscal year, the Grandview City Council attended a half-day retreat this past Tuesday.
City Treasurer Matt Cordray told the council and staff this year's finances are in good shape.
"Our reserves are looking pretty good," he said.
The general fund expenses for 2014 were budgeted at just more than $5.2 million. To date this year, about $2.5 million has been spent.
Cordray also noted EMS revenues are up more than $21,000 from the previous year, and revenues for capital improvements are higher than originally budgeted.
"But we still have capital projects to be completed," Cordray noted.
All of the city's accounts are healthy this year, he added.
"All-in-all, it's looking good and our department heads have done a good job of staying within budget," Cordray said.
Police Department
Police Chief Kal Fuller spoke about his department's needs.
He has been studying the need for a new police station and consulted BORA Architecture for an assessment. The architects have determined the need for an 18,000 square foot facility to house operations, training rooms and jail facilities.
"We don't know where we would put it," Fuller said, stating the current police station's location limits the options.
The price tag is estimated somewhere between $7.5 and $9 million, which would need strong community and voter support.
"Remodeling (the current station) could provide a short-term solution, but it is not ideal," said Fuller, stating the police station's structure has walls constructed of solid concrete.
"The original building was constructed in 1937 and housed the fire department, library, city treasurer, council chambers and two jail cells," he reminded council.
There was an addition to the building in 1952 and a remodel in 1995. However, technology and service have changed in the 19 years since the remodeling project.
"The current facility has numerous conflicts between various functions being done in the same spaces," said Fuller.
He said he's also concerned with recent media reports about safety in Grandview, noting statistics quoted were not entirely accurate.
Fuller said crime has been declining and the city is mirroring statewide statistics with a decrease of approximately 3.6 percent.
Grandview had 420 major crimes reported in 2012, which Fuller said is about even with other communities when comparing it based on population.
Fuller also noted there are currently four unfilled positions at the police department. They include an administrative assistant, detective and two sergeant positions.
He said staff "…continues to rise to the challenges."
In the 2015 budget Fuller anticipates the need for an increase in funding for training, as well as a new line item for ammunition.
He said training is necessary for officers to maintain and update qualifications. Ammunition, he said, has been obtained with help at the federal level.
"Local law enforcement is no longer able to obtain ammunition in the same way," said Fuller.
He plans to add ammunition at a funding level of $10,000 because of the amount of ammunition needed for training purposes and the difficulty acquiring it.
Fire Department
Speaking about the fire department was Fire Chief Pat Mason.
"We continue to offer what we consider a very good service," he said.
Mason said the fire department has been managing its budget well and he is pleased the voters approved a 10-year renewal of the county-wide EMS levy.
The fire department is staffed by two full-time employees and 27 volunteers.
Mason said response times are averaging between seven and eight minutes, but there is a trade-off between response times and the cost ratio for full-time staffing.
"The only way to change that (response time) is to hire full-time personnel," he said, noting that less than eight minutes is considered a good response time.
Mason said the department is down two volunteers, but the volunteers that respond to calls are doing a good job.
"The work load continues to grow," he said.
Grandview firefighters continue to need training, Mason told the council and staff present for the retreat.
Mason also noted the volunteer firefighters have not received a pay increase since 2008 and there is a need for another full-time staff member. That full-time staff member, if the budget allows for one, would be a training officer, giving Mason the opportunity to complete other work required of him.
The city, he said, also needs to look at the age of the apparatus at the fire station. The department has a 19-year-old pumper and its aerial truck is 15 years old.
"After so many years, equipment will no longer be recognized by the ratings bureau," said Mason, stating there is the added risk of being unable to find parts for repairs as the apparatus ages.
Parks and Recreation
The Parks and Recreation Department, too, has a few needs.
Director Mike Carpenter shared the need to return staffing levels to include the assistant parks and recreation director. He said citizens have expressed that desire, as well as a desire to see an updated pool and soccer fields.
The city must also decide what it will do about the museum, according to Carpenter.
The Grandview School District now owns the building that houses the museum, and the current lease expires next February.
Carpenter said, "This has been a hot topic."
The city earmarked $200,000 to build a new museum, but was surprised at the $708,000 price tag that came with the initial design presented by BORA Architecture last month.
Carpenter said the city has a few options, including looking for additional funding. He said the city can also choose to store its current exhibits, or return donated items to their owners and sell the remaining items in the museum's collection.
Sharing with the council members how much the museum is used, he said there were 16 tours, averaging three people each during the past year.
Turning to the issue of the swimming pool, Carpenter said it will be included in the 2015 budget.
The pool will be 60 years old and staff continues to keep it operational. It also continues to pass inspection.
He said there are some enthusiastic individuals wanting to restart discussions about constructing a new pool.
He said the biggest funding source for a pool replacement is the state's Recreation and Conservation Office, which requires a 50/50 match for grant funding.
Library
Library Director Elizabeth Jahnke said the library operations continue to go smoothly and there is an increase in users.
She said the e-book system continues to grow in popularity, and check-outs and renewals are on track for the year.
There are sometimes staffing challenges, but the library has learned to be creative with hours for a work-study student provided by Yakima Valley Community College.
Jahnke said she will most likely request an additional $5,000 to her budget in 2015 because federal funding distributed by the state library is on the decline. The federal dollars, she said, are used for the library's databases.
"Congress has been trying to eliminate this funding," said Jahnke.
Funding provided by the Friends of the Library is also decreasing due to a lack of success with the group's fundraisers. "Their membership is lower, too," she said.
Public Works
The public works department has had some success this year, seeing a decrease in the amount of graffiti it must clean up.
City Administrator and Public Works Director Cus Arteaga said approximately 15 percent of the graffiti budget for 2014 has been used to date.
He said the department has also been evaluating the possibility of changing street lighting to LED.
"We are also looking at the future expansion of the cemetery," said Arteaga.
He said the cemetery has about six years of capacity remaining, so preliminary ideas have been explored for the future.
Assistant Public Works Director Santos Trevino also spoke at the council retreat, stating there is some good news about the city's chip seal projects.
The 2014 budget included $50,000 for chip seal projects. Because the bid for the Carriage Square project was lower than anticipated, the city will be able to afford chip sealing on East Third and King streets.
In 2015, the city plans to chip seal Wallace Way, according to Trevino. He said the roadway there is well-used and showing wear and tear.
The public works department, he said, also has plans to add restroom facilities at Eastside and Vista Grande parks in 2015.