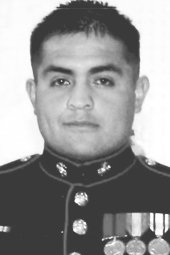 Juan A. Perez, 28, of Sunnyside went to be with the Lord on Tuesday, July 29, 2014, surrounded by family and friends.
Juan served in the U.S. Marine Corp. from 2004 to 2012.
He was a full time student to get a degree in criminal justice.
All he wanted in life was to help people.
He was a loving husband, son, brother and friend.
He is loved by many and will be missed by all.
The family would like to thank his doctor, Thomas Boyd and all the staff at North Star Lodge Cancer Center for all the work, love and support they gave to him.
"Some people wonder all their lives if they had made a difference. The Marines don't have that problem ~ Ronald Regan (Jovenn Timbol)."
He is survived by his loving wife of five years, Diana B. Perez; one son "Sparkey;" his parents, Antonio and Yolanda Perez; and two sisters, Caroline and Alma.
Viewing and visitation will be held today, July 31, 2014, from 4 to 8 p.m., with recitation of the Holy Rosary at 6 p.m. at Valley Hills Funeral Home in Sunnyside. Mass of Christian Burial will be held Friday, Aug. 1, 2014, at 9 a.m. at St Joseph Catholic Church in Sunnyside, followed by graveside services at Lower Valley Memorial Gardens in Sunnyside. A reception will be held at St Joseph Catholic Church's gymnasium in Sunnyside.
Condolences can be sent to www.valleyhillsfh.com.
Valley Hills Funeral Home in Sunnyside is in care of all arrangements.
More like this story