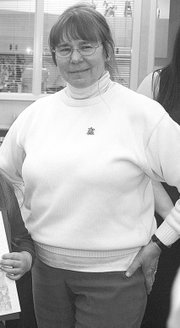 Sunnyside High School science teacher Joyce Stark was one of four teachers nationwide selected to participate in a STEM (science, technology, engineering and math) leadership academy in Tokyo, Japan.
Known as the TOMODACHI Toshiba STEM Leadership Academy, the week-long event begins tomorrow, Friday, in Tokyo.
The TOMODACHI Initiative is a public-private partnership, born out of support for Japan's recovery from the Great Japan Earthquake and tsunami, March 11, 2011, that invests in the next generation of Japanese and American leaders through educational and cultural exchanges.

In the aftermath of the earthquake and tsunami, U.S. military and Japan Self-Defense Forces worked together successfully in Operation TOMODACHI (friends) to provide immediate humanitarian relief to the Tohoku
region.

The TOMODACHI Toshiba Science and Technology Leadership Academy is an annual, one-week, annual, cross-cultural STEM exchange and leadership program for 16 high school students and eight teachers from Japan and the U.S. which supports the TOMODACHI initiative.
Program participants from both countries will work together in Tokyo to develop a disaster-resilient, smart community of the future.

Stark was selected as one of four U.S. teachers for this year's academy after providing a brief video of her developing a hands-on activity for Sunnyside High School students.
Her activity focused on solutions to rising carbon dioxide (and other greenhouse gas) emissions.
SHS students participating in Stark's award-winning video included Jasmine Paxton, Jayleen Leon, Juan Casas, Andre Cavazos, Maria Alvarez and Heidi Lancaster.
Also, SHS video production teacher Joe Meersman filed and edited Stark's video for the Tokyo academy.
Stark in 2004-05 was an Albert Einstein Distinguished Educator Fellow for NOAA in Washington, D.C. She helped to organize and write curricula for a Tsunami Awareness Package after the Aceh, Indonesia earthquake and tsunami on Dec. 26, 2004.