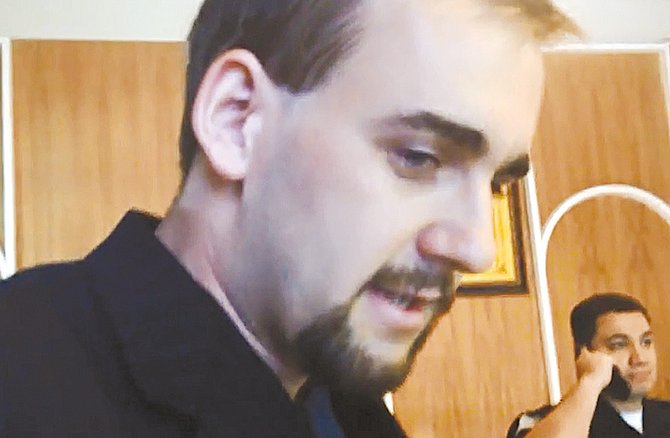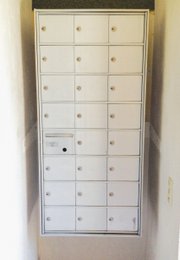 EPHRATA – Charges may be sought against Fourth District Congressional candidate Gavin Seim following an encounter last month at the Grant County Courthouse.
That's according to Ephrata Police Chief Mike Warren, who defended his officers' response at the courthouse on May 22 after Seim confronted staff there about lack of a lockbox for citizens to securely store their firearms.
In a video Seim released of the 24-minute confrontation, he refuses to leave the courthouse while insisting officials there recognize they are out of compliance with state law.
In one exchange Seim repeatedly asks Moon Security Guard David Beck, who according to the Columbia Basin Herald earlier this year broke up a gang fight at the courthouse, if he knows RCW 9.41.300, the state code requiring a weapons check or lockbox.
Beck in the video responds, "You shouldn't have a weapon in the courthouse to begin with."
After a 911 call and three Ephrata police officers arrive at the courthouse, Seim in the video is asked twice if he is carrying a gun before he states he is not. Officers still follow through with a pat down and check of his hands, apparently to make sure he is not carrying a weapon.
Seim told the Daily Sun News he had already returned his weapon to his car, but Warren contends his officers were unaware of that at the time they received the call.
"Based on the investigating I have done on this case, he goes in to the Grant County Courthouse to take care of his car tabs…and goes into this tirade if you will and he makes the people that were there, the security guard and receptionist, believe he has a weapon on him."
Warren continued, "When officers were told we had someone threatening in the courthouse with a gun, my guys dropped other calls and high tailed it to the courthouse"
Warren praised Ephrata police's response to the situation. "They exercised great restraint under the circumstances. With all the shootings around the country, when you get a call about someone threatening at the courthouse, we take that pretty seriously."
Seim, who operates a photography studio in Ephrata, contends officers knew him and used the encounter to make a statement of their own.
"They knew who I was, they were more concerned about showing their superior authority," he said.
If nothing else, the exchange has resulted in a change at the Grant County Courthouse, which recently installed lockboxes for the public to securely store their weapons. Previously, those arriving at the courthouse with firearms were instructed to leave their weapons in their vehicle or store them with the Grant County Sheriff's office, a three-minute walk. The Sheriff's office and courthouse are also connected via a breezeway, but are two separate buildings.
Seim feels vindicated the county responded to his call for a lockbox. He says several other citizens told him they had previously complained about the absence of a lockbox.
"It really illustrates the power of we the people," he says. "In 11 days we got the county to comply with the law they hadn't complied with in 20 years."
Warren counters that Seim is motivated in part by his run for Congress.
"It (lack of a lockbox) was never an issue in the past and they took care of it," he said. "That's the whole thing that's irritating, he could have called the sheriff's office about it but instead you have somebody trying to make a political mountain out of a molehill."
One of 12 candidates vying for a Congressional seat representing an area that includes the Yakima Valley, Seim says his mission is to make all public officials accountable – both on the local and national levels.
"My main goal is not simply local law enforcement," he said, calling the federal government "dysfunctional and lawless."
Seim is attending a rally today, Tuesday, at the Grant County Courthouse that he says is focused on government accountability.
"We're going to continue the conversation and educate each other about accountability when the state is behaving in a lawless fashion," he said. "We do have the right to say no and the duty to protect the rights of our children and grandchildren."
Speaking of accountability, Warren wants just that for Seim.
"In our opinion, it was criminal," Warren said. "He created a threatening environment and pulled our guys off of other calls."
Angus Lee is Grant County's prosecuting attorney, and he says it's too soon to tell what charges, if any, may be filed.
"All I can tell you is we've received a report from the Ephrata Police Department asking we review the information to determine if any charges are appropriate," Lee told the Daily Sun News this morning, Tuesday. "We just received it yesterday afternoon and I'm not going to speculate on what's in the report or whether charges will be filed."
As for the 10 days or so between the May 22 incident and yesterday's report filed by Ephrata police, Lee says that time frame is not unusual.
"All I can tell you is every case has its own unique set of facts…there are many a time when a case report is referred to us in a couple of days but sometimes much later."
Video footage of the courthouse incident is available at Seim's campaign website, callmegav.com