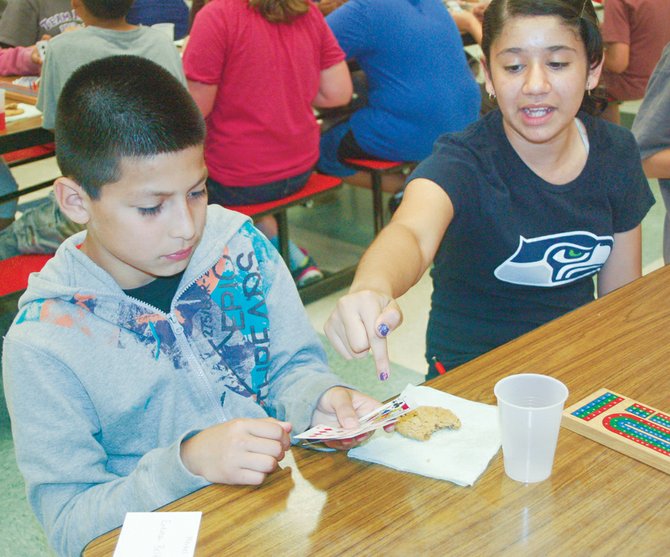 "Fifteen for two, and a run of three for three for a score of five" was just one way to count scores at the annual Washington Elementary School Cribbage Tournament held last Friday.
More than 75 fourth and fifth graders sat across from each other planning strategies for making the best hands on which to peg points in the preliminary cribbage matches.
It's the pegging of points that leads to winning, but first a cribbage player must be able to size up his own hand, while not giving his opponent any opportunities to score on the cards in the "crib," (the cast-off pile).
"There is a lot of strategy to playing cribbage," admits Cesar Roldan, one of Friday's contestants. "It really makes your brain work and you have to use a lot of math, too," the fifth grader added.
Roldan is hoping to be one of Washington Elementary School's top cribbage players and win one of two handcrafted cribbage board trophies created and donated to the tournament by James Morrow of the Sunnyside Cribbage Association.
The Friday tournament was the culmination of five weeks of learning to play the pegging game, said Diego Alvarez, Washington Elementary School counselor and cribbage coach.
"The 78 competitors were being narrowed to 32, with eliminations knocking off players until there are the top four," he explained. "The top two in the finals will earn the cribbage boards," Alvarez explained.
The tournament will conclude by the end of the last day of the school year on June 10.
Alvarez said the top finisher will have an opportunity to face off against Sunnyside Schools Superintendent Dr. Rick Cole.