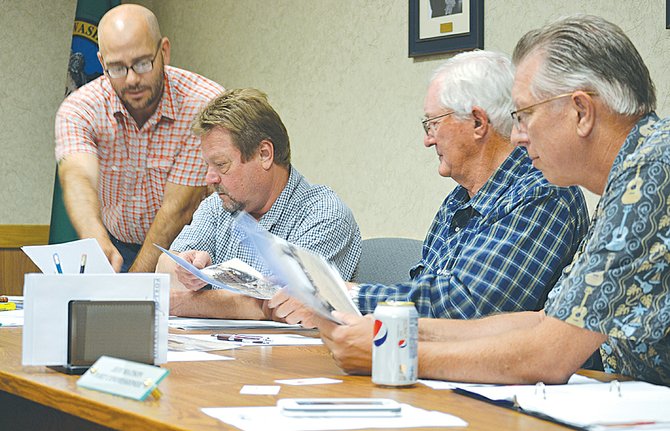 During their meeting last night, Monday, Port of Sunnyside commissioners received a bond presentation from Banner Bank officials.
Betty Jo Murray and Darwin Parker are both vice presidents for the bank, and offered commissioners a couple of options for a $2.5 million bond issue that would essentially operate as a bank loan.
Port commissioners are weighing the option because additional funds may be needed for the $7.3 million anaerobic digester the port is building to increase its industrial wastewater processing capacity.
Executive Director Jay Hester last night said if additional grant/loan packages aren't received for the project, then the port might need up to $1 million to wrap up funding.
Options presented last night included a 5-year term at 2.85 percent interest or a 6-year term at 3-percent interest.
Port commissioners were non-committal after the presentation, though Commissioner Arnold Martin said within a couple of weeks a decision might be reached on the proposal.
Commissioner Jeff Matson has an accounting office in Sunnyside, and he questioned whether the port would still have to pay back the funds over a five or six-year term if it only needs to say borrow $50,000.
Parker and Murray said they couldn't make any promises, but suggested the bank could offer some flexibility. Murray also raised the possibility of increasing Banner's origination fee by a half-percent so that the bank is compensated for its efforts while offering the port flexibility in paying off the bond early.
In related news from Monday's meeting, port commissioners held a public hearing on a proposed amendment to the Port of Sunnyside's comprehensive plan. The amendment, if approved, would allow the port to sell properties it owns on Murray Road, South Emerald Road and on Sheller Road near the airport.
Proceeds from the sales could then be applied to help defray costs associated with the digester.
In another item connected to the digester, commissioners decided to move their first meeting of the month for July, August, September and October to the port's operations office on Midvale Road to offer a first-hand look at construction progress.