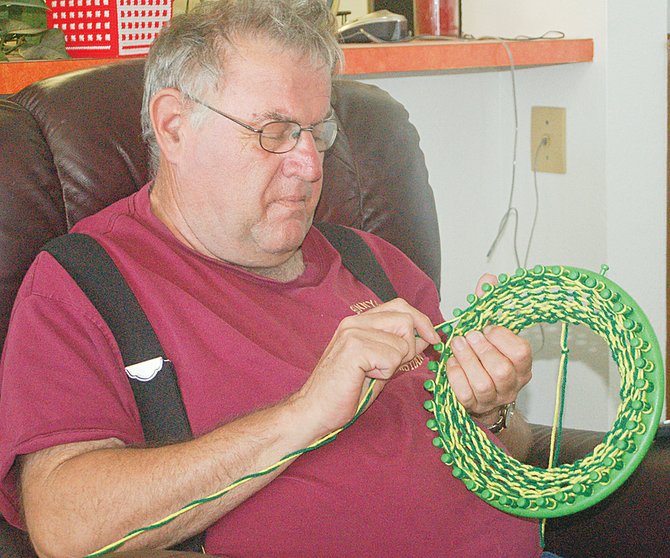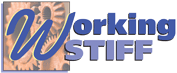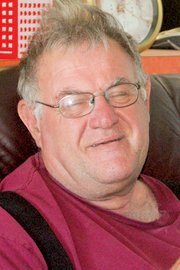 From his easy chair in the front room of his 16th Street apartment, Don Underwood can keep an eye on the neighborhood, whenever he takes a break from making dozens of handcrafted hats and scarves.
Many of Underwood's loomed accessories are created for friends in the colors of their favorite sports teams. But Underwood also sells quite a few to private parties and at Lower Valley bazaars.
Currently, he is working on building an inventory for his table at the Sunnyside Housing Authority Senior Citizens Bazaar, held each December at the housing community center.
He recently donated a handcrafted hat and scarf set in Seattle Seahawk colors as a fundraiser item to the annual Sunnyside Christian School auction. "They got a pretty good price for it," he said. He recently completed a set in Oregon Ducks yellow and green.
"I use the money to help pay for vacations," he said.
The longtime Sunnyside resident is an avid high school sports fan, so he also creates his garments in local school colors. "Some I sell, but some I just give away," he admits.

He has a large circular loom, which he uses to create hats for adults and a smaller one for children's hats, as well as a separate loom for the thick, warm scarves he makes.
Over the years, the 61-year-old Underwood has worked at a lot of different businesses in Sunnyside, including restaurants, garden shops, grocery stores and for many years he was a regular worker at the Sunnyside St. Vincent Store.

"Now I also work at the Toppenish Livestock Company shredding papers on sales days," he said.
In addition to working on his loom, Underwood recently started a garden plot at the Sunnyside Community Gardens on North 16th Street.