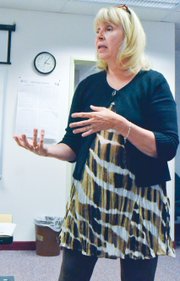 Every four years People for People, on behalf of the Washington State Department of Transportation, conducts a forum to provide the public input on the state's transportation plan.
According to People for People CEO Madelyn Carlson, different entities in each region of the state conduct the public forums.
People for People provides transportation for residents in the Yakima Valley. Much of that transportation is provided to individuals with disabilities, who are older than 60 or are youth in the community.
At yesterday's forum in Sunnyside, Carlson said Lower Yakima Valley residents will have another opportunity to share their transportation needs at a forum to be held in Grandview.
That forum will take place on Monday, June 16, at the Yakima Valley Community College Grandview campus in room L115 at 5:30 p.m.
At yesterday's forum, Carlson said the forums are designed to "…capture, for Yakima County, what transportation resources are available, where the gaps are and what the needs are."
She said the hope is to identify the needs of the community.
There are also surveys available at surveymonkey.com/s/2LRTNQZ or by calling Melissa Bauman at 509-248-6726.
Carlson said People for People drivers are handing out surveys.
Several agencies, including Nuestra Casa, Northwest Community Action Center, Neighborhood Health Services and WorkSource were represented at the forum. Representatives took copies of the survey for clients.
"Service providers can also fill out the survey on behalf of those they serve," said Carlson.
She asked the audience to share which transportation resources are currently available after explaining that the forums and surveys are instrumental in helping the Washington State Department of Transportation decide which projects it will fund based on needs of communities across the state.
Jeanette Knight said she uses the community connector, non-emergency medical vans and grocery van services provided by People for People.
"I want to know why the grocery services aren't better coordinated with the medical vans used for appointments," she said.
Knight said she has noticed a separate driver must travel from Yakima to Sunnyside for medical appointments when a driver is already in the community for grocery runs.
Carlson said the non-emergency medical services are contracted with an outside entity, but for cost-saving purposes People for People might look into coordinating services.
"I'm very grateful for the services," said Knight.
The group began talking about the various modes of transportation used by local residents, stating some rely upon friends, family and church members for transportation. Others use services provided by People for People. And, there are some who use services including employer or state-sponsored van pools for work, the Fiesta Foods van, Greyhound and gas vouchers.
When asked about gaps in services, Esperanza Lemos of Nuestra Casa said, "Mabton residents are isolated."
She said clients of the local non-profit have difficulty accessing services in Sunnyside due to a lack of transportation to and from the community of Mabton.
Another provider said there are residents of Mattawa who travel to Sunnyside for work and services.
Carlson said Mattawa is in Grant County, which has its own transportation service, but she could understand the residents of that community needing transportation to Sunnyside.
A representative of Neighborhood Health Services said clients of the local medical facility sometimes have difficulty because transportation services already provided have limitations. For instance, a parent accompanying a child to a medical appointment cannot bring a sibling.
"Some of our clients cannot afford or find child care services for the sibling," she said.
It was also said there are individuals in the Lower Yakima Valley who do not have transportation to and from work, making it difficult to secure employment or to maintain employment.
Another gap in services that was noted was a lack of transportation on weekends. There are many community events and activities, as well as services that cannot be accessed without available transportation.
For youth, the agency representatives said there aren't services that will transport youngsters to various locations like the pool and the community center.
There was also mention of the need for transportation to and from educational institutions like the YV-Tech campus in Sunnyside or Yakima, as well as Yakima Valley Community College for Running Start students.
Carlson said all of the information shared will be documented for the transportation plan. She said People for People is also looking at providing veterans services in the future.
"Your input is invaluable."