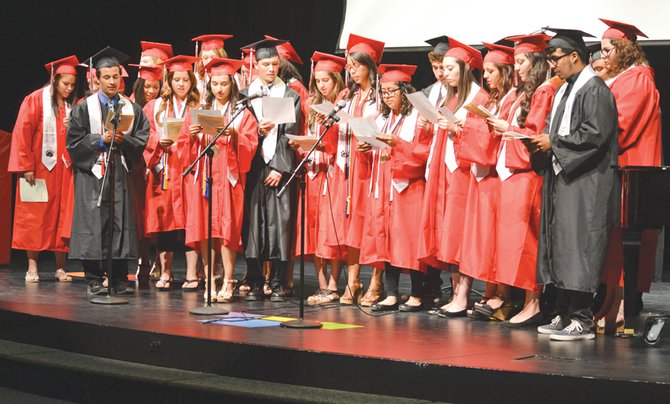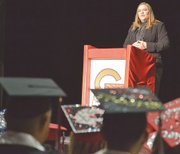 "I just love having church at school!" Sunnyside High School teacher Nick Paulakis exulted during his charge to the class of 2014 during a baccalaureate service last night.
Thursday's religious service sponsored by the Sunnyside Ministerial Association marked the transition to adulthood for the graduates. It indeed focused on faith and maintaining it during good times and bad.
In her sermon to the 25 or so SHS grads on hand for the ceremony at the high school's auditorium, Pastor Katrina Walther cautioned that "…having faith does not mean everything will be sunshine and roses."
Walther illustrated with the example of the Apostle Paul's contentment with plenty and with little. She said faith, regardless of the circumstances, provides the graduates support and stability.
"It is no small thing for me to say to you…have faith," she said. "Faith can move mountains…it gives us the courage to step out into the unknown."
The evening also included praise and worship songs, as well as scripture readings.
At one point, the class of 2014 heard from SHS alum Meghan (Grubenhoff) Paeschke. The 2006 graduate, like Walther, urged the class to keep the faith.
"The only thing you can never do wrong is continue to follow the Lord," she said. "Stand firm in your beliefs and hold firm to your convictions."
Last night was more than a send-off in faith, though, as Paulakis reminded graduates they continue to have the prayerful support of the community as they go out into the world.
"Our doors are always open, our phones are always on, our shoulders are always there if you need to lean on us," he said.