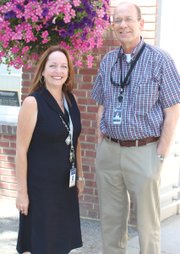 GRANDVIEW – They have worked side by side for the past nine years, he as the Grandview Compass High School's administrator and she as the school's business education instructor.
On July 1, Kim Casey will take over as Grandview Compass High School principal as her friend and mentor, Principal Brian Anderson, also moves into a new role.
Anderson will become the Grandview School District's first fulltime Director of Assessment and Student Data.
The pair both came to Compass High School at the same time, nine years ago.
Anderson said he won't be taking on a totally unfamiliar role as the head of the district's student assessment and data.
"I've been doing that part time in addition to my duties as principal," he said.
But with the increase in the number of state and district evaluations testing, the district has a need for a person to manage and analyze the data on a full time basis, he explained.

Casey, who has worked to instill a sense of work ethic, as well as business skills in her students, is excited to take on the responsibility of being principal of the alternative high school, now in its 20th year.
Anderson said Compass High School enrolls 100 day class students and 60 students who are in contract learning programs.
Anderson said Compass High School students may work as fast as they want, in order to get and stay on track for graduation.
"The idea is to keep students on track to earn their high school diploma," Anderson said.
In his new role, Anderson will be managing the testing data of the 3,200 students who attend schools in the Grandview School District.
Meanwhile, Casey will be tasked with influencing the Compass High School staff to aid students on their road to a successful conclusion to their high school careers.