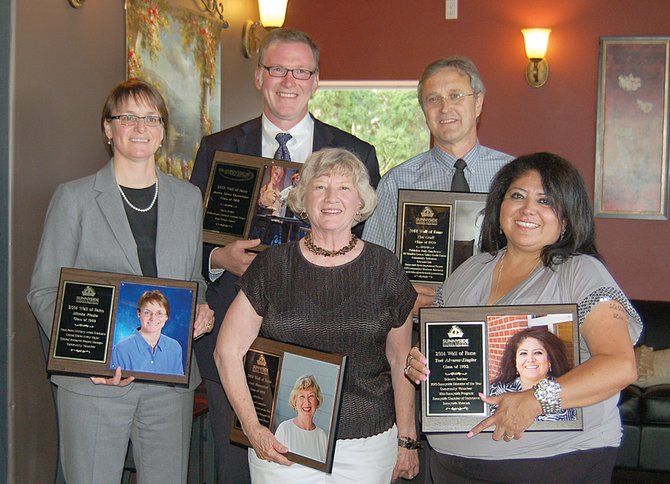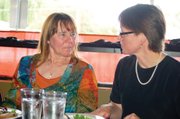 Along with a new graduating class, the Sunnyside School District inducted four new members into the Sunnyside High School Wall of Fame last Friday and celebrated a previous inductee who was not able to attend last year.
At a dinner honoring the inductees, the five each had a chance to speak about their life experiences and how graduating from Sunnyside High School had shaped their life experiences.
Tim Graff, class of 1970, earned the honor for his many years of work in the newspaper business, starting only three years after he graduated. He started as a pressman and worked his way up to become the publisher in 2001.
Graff has ensured that the Daily Sun News takes an active part in the community. He has allowed youth groups, including AAU basketball teams, to use the newspaper's parking lot for car washes and other fundraisers. He has donated ad space to local organizations for fundraising.
Graff also established the annual military veterans section of the newspaper in 2009, ensuring that a portion of the proceeds every year are donated to local veteran organizations. The section also include photos of local veterans that are published free of charge.
In addition to his newspaper work, Graff has been a member of the Kiwanis Club of Sunnyside for more than 30 years and the chapter president twice. He's been the chairperson of various events, including the Kids Day Parade.
He has also been a volunteer member of several boards and committees around Sunnyside, including the Farm Implement Parade Committee, the school district business advisory committee, the wall of fame committee and Lower Valley Credit Union board.
Graff also produced two volumes of the pictorial history of Sunnyside. His nomination form states that he "takes the newspaper's role in preserving the history of our community and its residents very seriously."
He is also a regular blood donor who has given blood for more than 10 years.
Graff was nominated by Lindsay Wirth, Sherri Graff and Andrea Graff.
Graff said he was humbled by the honor.
"This was not expected," he told the crowd at Bon Vino's Bistro and Bakery. He also applauded the opening of YV-Tech, saying that a graphic arts class in high school helped guide him to his career.
Science teacher Teri Alvarez-Ziegler of the class of 1982 was honored at the ceremony for her work in education.
Alvarez-Ziegler, nominated by her mother Trina Alvarez, was involved in FBLA, GAA, Pep Club, Honor Roll, AP world history and science fair while still a student at Sunnyside High School. She was the first person from Sunnyside to win the grand prize at the Mid-Columbia science fair and participate in the International Science & Engineering Fair.
Alvarez-Ziegler went on to earn a BA in science with a minor in biology. She also earned a secondary teaching certificate, a Master's degree in education and a professional certificate.
She taught at Pride Alternative High School and stuck with the job because she wanted to teach in Sunnyside. She wanted to be a role model for Hispanic students.
"This was important to her because she never had any teachers in her past that shared her ethnic background," said her mother.
Alvarez-Ziegler started teaching biology alongside her friend and mentor, Joyce Stark, after Pride was closed. She now helps with the local science fair and has developed her own TAZ Fair for her honors biology students.
She is also a MESA (Mathematics, Engineering, Science, Achievement) teacher and has been able to secure funds to take her students on science field trips.
Alvarez-Ziegler also is a member of the Washington Science Teachers Association and the National Science Teachers Association. She has volunteered her time with both the Mid-Columbia and state science fairs. She was accepted by the Washington Aerospace Scholars at the Flight Museum in 2012-13 as an online academic evaluator and summer residency academic facilitator.
She was award the Spirit of Sunnyside Educator of the Year award in 2010 and Woman of the Year honors by the Daily Sun News in 2013. She has been nominated for a Golden Apple award seven of her nine years in the Sunnyside School District.
Alvarez-Ziegler also has volunteered to be the pageant director and chaperone for the Miss Sunnyside program for nine years. She spends at least 1,000 hours a year on community service with the court and uses her own vehicle and gasoline to transport them all over the state. Under her direction, the Miss Sunnyside board gives about $4,500 in scholarship money each year.
Alvarez-Ziegler became president of the Sunnyside Chamber of Commerce last year, another volunteer position. She also serves on Sunnyside's lodging tax committee and is on the Sunnyside Museum and Historical Society board.
"Teri hasn't left to go out into the world to do great things," said Alvarez. "She is doing great things here in Sunnyside."
Alvarez-Ziegler said that she, too, was humbled by the honor. She also said she is glad that she has the opportunity to make a difference.
Mischa Plesha, class of 1989, was nominated by Sunnyside High School science teacher Joyce Stark for Plesha's work in the field of science.
Plesha attended West Point and graduated in the top 20 percent of her class. She served three years of active duty after being commissioned as a transportation officer. She was a platoon leader and executive officer.
She spent 17 years in the U.S. Army Reserves. She was a staff officer and an aide-de-camp for two different major generals. She qualified for the U.S. Military ski team and competed at the Military Ski Championships in Austria in March 2000.
She was mobilized to active duty in 2003-04 and again in 2009-10, serving first as an aide-de-camp and then as a logistics officer in Kuwait. She retired as a major with a number of medals and honors for her work.
Plesha has a Master's degree in chemistry from San Jose State University and certificates from the University of California Santa Cruz Extension.
She worked at Applied Materials in San Jose for 12 years, holding various positions in engineering, manufacturing and operations. She is the co-inventor on a patent for silver reflectors for semiconductor processing chambers.
For six years she has worked at Abbott Laboratories as a project manager. She is currently a senior project manager and interim clinical manager for the clinical research group.
Plesha has volunteered as an English as a Second Language teacher once a week since 2012 in San Jose. She also has volunteered at Second Harvest Food Bank and Sacred Heart Community Services.
Plesha said she was surprised by the honor, especially when she compared her name with the names of previous winners listed on the program.
"I want to thank Joyce Stark," she said. "If it wasn't for her I would not have gone to West Point."
Plesha explained that she was recruited to West Point at a science fair, and she was only at the science fair thanks to Stark's efforts. The experience shaped her entire life, for which she was grateful.
Also earning an award at the ceremony was Jerri Honeyford, class of 1958. She was nominated by her husband, Jim.
Honeyford is a Sunnyside native who has donated a lot of time to helping with class reunions. She graduated from Central Washington University with a degree in education and earned a Master's of education in counseling from Heritage College.
She taught in Kittitas from 1964 until being hired at Sunnyside High School in 1966. She also taught at Sunnyside Junior High School before becoming a school counselor at Sunnyside Christian Schools from 1972 until 2000.
Honeyford served as a choir director at Sunnyside Christian Reformed Church for 20 years. She sang in community Christmas concerts from 1966 until 1996.
She was also a 4-H leader for 15 years and served on the board of the Yakima County Habitat for Humanity for nine years, serving as president of the board for four years.
She has served on the Yakima County Farm Bureau Board since 1996 and was president from 2003 to 2006. She was also on the Maryhill Museum board for 10 years and was president of the board from 2005 to 2008. She still serves on the expansion committee.
During the legislative session, Honeyford writes a weekly column for the Daily Sun News. She also serves on the Governor's Advisory Committee for Historic Preservation, a position she's held since 2008. She has served on the Mabuhay Board (a Filipino community board) and on the scholarship committee since 2006.
She also serves as the chair of the Washington State Heritage Barn Committee and wrote a booklet on "The Heritage Barns of Washington State." She was the Daily Sun News woman of the year in 2006.
She's been married to Jim Honeyford since 1959, had four children and is the grandmother of 11 children.
"This is a happy event for me," she said. "I get to join my husband on the wall."
She said she was completely surprised by the award. She was the only nominee who did not know she had earned the award before arriving at the dinner.
Honeyford said she tries to make the world a better place in her own way.
"When I go to Olympia with Jim there is a dearth of smiling, friendly faces," she said. "I try to add that. Whatever I can do to help, I will."
An inductee from last year, Jim Cornelison, was also at the dinner. The singer came to Sunnyside to sing "God Bless America" at graduation. The class of 1982 graduate told the attendees at the dinner that he had thought he was just being treated to a meal before the performance.
"It's great to be honored," he said. "I've been very fortunate. Luck is when opportunity and preparation meet. I was ready when the Blackhawks needed a person to sing the national anthem."
Cornelison said his job has given him many chances to honor veterans. He is involved in USO, honor flights and other veteran organizations. He said that when he sings the anthem, he points to the flag.
"The key to my success is pointing to something else," he said. "I point to the sacrifice of our soldiers."