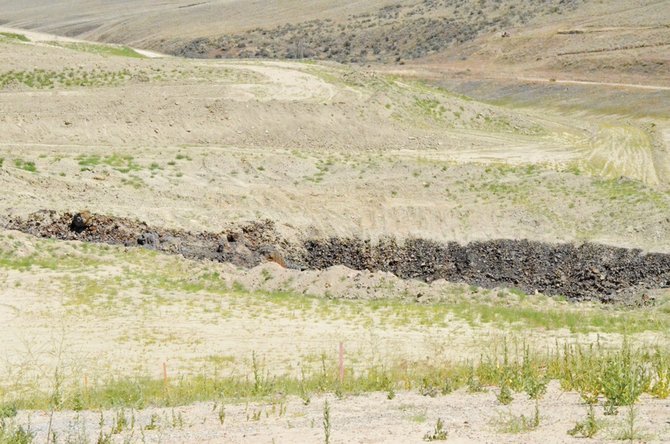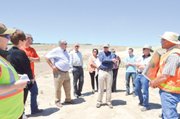 Roza Irrigation District is in the process of constructing a $26 million re-regulation reservoir for the purpose of storing water that will provide irrigation to its users when demand is higher than normal.
That's according to Wayne Sonnichsen, the district's assistant engineering manager.
He provided members of Sunnyside's Noon Rotary Club on Monday with a glimpse of the progress made thus far.
Sonnichsen said the contractors have been digging the reservoir, building embankments this spring. "We are about $3 million into the project," he said, stating it is anticipated that approximately $12 million will have been spent by the end of the summer.
The irrigation district, he said, pumps between 125 and 150 cubic feet of water per second to its users during the spring months. Approximately 125 cubic feet per second will be diverted to the reservoir when it is completed.
The embankments to the reservoir, said Sonnichsen, will be 75 feet tall and approximately 1,600 acre feet of water will be held in storage.
The depth of the reservoir will be approximately 70 feet.
"This site was selected because of the lake bed deposits already in existence," Sonnichsen said of the location north of Sunnyside.
He said the district was hoping to use the lake bed deposits as a liner for the reservoir, but instead it will be used as a secondary liner.
Sonnichsen said the Roza Irrigation District plans to begin filling the reservoir in July 2016.
"There will be 35 acres of surface area," he said.
When asked about power generated from the flow of water from the reservoir, Sonnichsen told the Rotarians the irrigation district can generate electricity. However, that electricity will most likely be captured for use by the district.
Asked about flood waters during extreme weather events, he told the Rotarians that there will be an embankment on the north side of the reservoir to prevent debris from entering it. There will also be a spillway constructed to mitigate flooding below the reservoir.