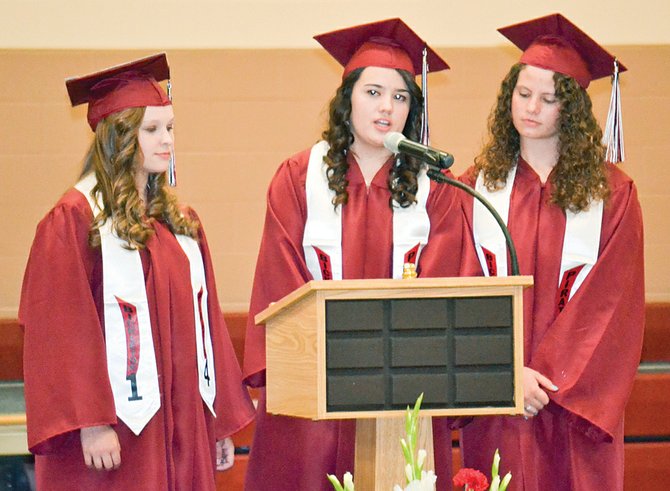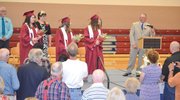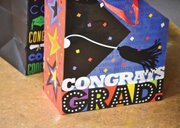 BICKLETON – One theme consistently came through last Saturday during commencement exercises for Bickleton High School's three graduates.
The graduates - Sydnie Whitmore, Annie Lindsley and valedictorian Kayli Berk - thanked their families, the Bickleton community and Jesus during their final moments as Bickleton High School seniors.
In addition to joining her classmates in expressing appreciation, Berk encouraged her fellow graduates to "…live life to the fullest and not sweat the little things."
Saturday was more than just thinking and expressing thanks for the past.
All three have much to look forward to in the future.
Lindsley plans to enroll at CWU this fall to become a teacher.
She laughed that her childhood dream was to be a zookeeper, but was told by her mother that at times there is "…a fine line between teaching and zookeeping."
Whitmore will study nursing at Columbia Basin College and Berk will attend Heritage University with hopes of becoming an English teacher.
Besides the love and support of the Bickleton community they so appreciate, the grads will get help in pursuing their further education in the form of scholarships.
The final award announced on Saturday was an Act Six four-year scholarship from Heritage University presented to Berk.
More than 1,000 students from around the region applied for the Heritage leadership program and only nine awards – valued at more than $80,000 each - were granted, including one to Berk.
All in all, it was a big day to give thanks for Bickleton's three graduates.
"For a lot of people this is just another Saturday, but to us it means more than that," said Berk.