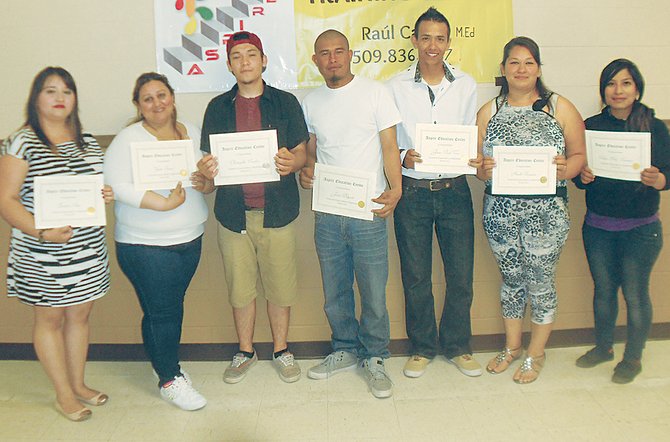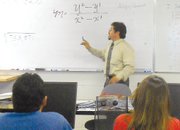 With the adoption of Common Core Standards in Washington state, students must meet higher expectations.
However, that isn't true only for students in K-12 schools, according to Raul Castro of Aspire Education and Training Center in Sunnyside.
Castro teaches GED classes for adults.
He said students working toward a GED have to also meet the standards established by Common Core.
As of this past January the students taking GED classes throughout the state have had to demonstrate proficiency in math, language arts, social studies and science.
In math, students must be proficient in some areas of pre-calculus, trigonometry, geometry and algebra, according to Castro.
He said language arts testing requires students earning a GED to be proficient in reading at a 10th or 11th grade level. They must demonstrate comprehension and text analysis skills. The students must also be proficient in composition and writing to topic for the writing element of the test.
Castro, a former Sunnyside School District educator, said he has had to align all curriculum for GED students to the Common Core Standards.
"The curriculum is in transition, but I am familiar with the concepts of Common Core," he said.
"Common Core is more rigorous."
Castro has been teaching GED students for more than 20 years. He said these are students who met with challenges when they were in school or immigrated with a limited education.
"About half of my students may not have completed high school for one reason or another…the other half are probably immigrants," said Castro.
The difference, he said, is the students seeking to earn a GED are motivated and committed to improving their lives and the lives of their family.
"They make many sacrifices," Castro said.
He said there has been an evolution in GED programs. A GED, he said, "…used to be a tier below a high school diploma."
The standards have been raised and today's students often are working class individuals determined to meet the challenges so that they might pursue a better education. Castro said many of the students at Aspire are working toward the goal of going to college.
"The students feel empowered to help their children and families," said Castro, stating parents find it easier to help their children with homework.
"Sometimes they are learning while their children are learning, serving as role models…it solidifies the family," he said.
With the changes in the requirements, Castro has seen adults meet the new challenges required of them. He said seven students recently graduated from the program, many of whom have plans to go to college.
One other change that was necessary in GED programs, said Castro, is the addition of computer skills training.
"The Common Core (Standards) tests are on the computer," he explained.
A partnership with Heritage University, said Castro, makes it possible for the students to receive the tools needed to obtain a GED.
Students can also pursue a college education because of that partnership, he said.