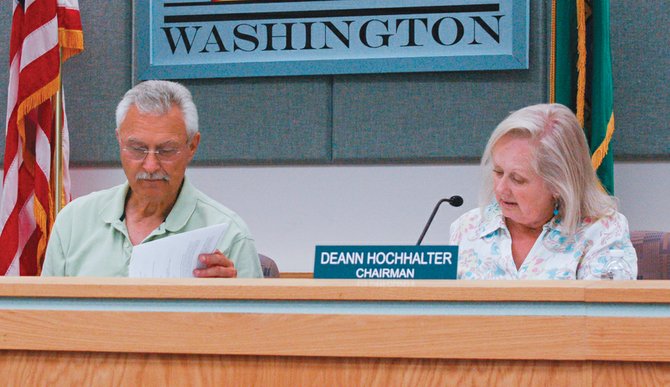 The Sunnyside Planning Commission will be drafting an ordinance to allow chickens to be raised within the city limits of Sunnyside.
But, commissioners hope to hear from the public regarding the potential change in law at their next meeting, scheduled for Tuesday, July 8.
City Planner Jamey Ayling provided the commissioners with a study done at the University of New Mexico in 2008 on 25 cities nationwide that have ordinances allowing chickens. He said his own opinion on keeping chickens was changed after reading the study, and he is now more inclined to allow chickens under strict rules.
Ayling also provided the city of Prosser's ordinance, which allows up to three chickens, and Yakima's ordinance, which allows up to five.
Ayling recommended, if the commission decides to go forward with this idea, that it ban roosters, require chickens to be kept in coops and limit the number of chickens.
Commissioner Bernie Barker said that she has been told by a mail delivery person that many chickens already are kept in Sunnyside. Ayling confirmed that city workers sometimes run across chickens and have to inform the owners that the animals are not allowed.
Ayling also said that from a noise standpoint, chickens are quieter than dogs, as long as there are no roosters.
"A chicken will cackle just a little bit when they lay an egg every once in a while," he said. "But they don't typically make a lot of noise."
Commissioner Roy Anciso questioned how chickens running loose would be handled. Alying said it would fall under animal control, the same as dogs, which are also not allowed to run at large. Anciso asked if the police would be on board with it, noting that it would add to the police workload.
Commissioner Bruce Epps asked Ayling to find out how many complaints are generally received about chickens by some cities that allow them.
Hochhalter asked how many nuisance calls the city already receives about illegal chickens. Ayling said the city does not receive complaints about hens, but roosters have generated calls.
Hochhalter also asked how many people will likely raise chickens. Ayling said raising chickens is not common and he expected there would be no more than 20 households with chickens, but admitted it is hard to predict.
The regulations that the city is looking at would also restrict the location of coops, including setbacks from homes and property lines. Epps also suggested that keeping chickens in homes should also be prohibited.
A public hearing about the possible ordinance will be held at the next commission meeting and members of the public with opinions on the topic are urged to attend and give testimony.
If the commission decides to draft an ordinance, it will still be up to the Sunnyside City Council to make the final decision on whether or not to adopt it.