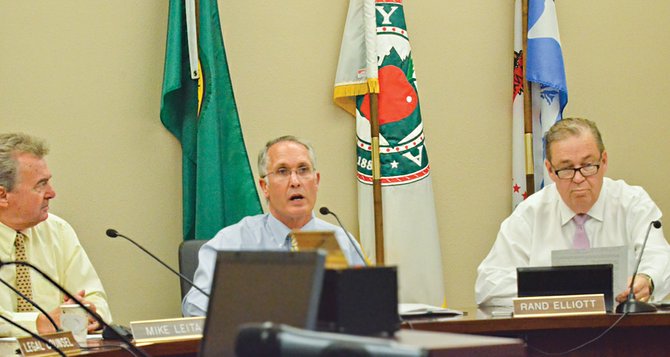 YAKIMA – Yakima County commissioners yesterday deliberated whether or not to impose a ban on retail businesses, producers and processors of recreational marijuana in unincorporated areas of the county.
The unanimous decision to impose a ban on such businesses, according to commissioners Mike Leita, Kevin Bouchey and Rand Elliott, was not taken lightly.
This past January the commissioners said they were leaning toward such a ban in unincorporated areas of Yakima County.
At that time, county staff were directed to start the process of amending chapter 15 in the county codes to reflect such a prohibition.
Several public hearings have taken place, the planning commission has weighed in on the issue and the commissioners still believe prohibiting recreational marijuana business is the best course of action for citizens of Yakima County.
Bouchey, at a special meeting yesterday, said he took into account "…two overriding issues: the vote of Yakima County voters…second is the opinion of Attorney General (Bob) Ferguson."
He said the majority of voters of this county rejected I-502. That, said Bouchey, means his constituents did not want recreational marijuana to become legal.
He said the attorney general's opinion states that local governments can prohibit retail sales, production and processing businesses from being established.
Leita said, "The overreaching purpose of (county) codes is to define land use purposes…and what the future should look like."
He said Yakima County officials have the authority and the responsibility to determine whether marijuana businesses should be allowed or prohibited.
"Substantial written and oral testimony has been received," said Leita.
He said he has had to weigh the information provided to the commissioners carefully to come to a conclusion.
"It has taken much patience," said Leita, stating he was particularly challenged when proponents of recreational marijuana use and businesses told commissioners they would not adhere to the decision of the commissioners, if the decision was to ban the businesses.
After hearing from all who voiced their opinions and provided information to the commissioners, Leita said he has to support the ban on marijuana businesses.
Elliott, too, said the decision he made did not come easily. He said he doesn't believe in government limiting the rights of citizens.
However, "…this is not the marijuana of the 60s."
Elliott said, "I believe the moratoriums served their purpose."
The commission was able to gather facts and information to carefully make a decision, he said.
"I am concerned about the effects on individuals…we should listen to the people," said Elliott.
Bouchey weighed in again, stating he knows a family that is dealing with the impact of marijuana use. The son has been cognitively impaired due to prolonged use of what is a "…federally controlled substance."
He said, "Legalizing marijuana state by state is like fitting a square peg in a round hole."
Bouchey noted that prohibiting recreational marijuana businesses in the unincorporated areas of Yakima County does not impact possession laws established by I-502.
Leita said, "I made a conscious effort to listen to all the information…I don't think this (legalizing recreational marijuana) is helping the state."
The commissioners directed staff to draft a resolution that includes changes to chapter 15 in the county codes that ban recreational marijuana retail operations, production and processing in unincorporated areas of Yakima County. They voted 3-0, and the resolution is set to come before the commissioners at next Tuesday's regular meeting.