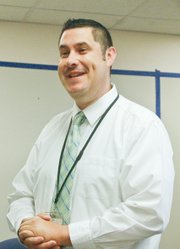 Convincing people to go in for cancer screenings is the biggest part of Nathanael Marchello's job as a community health promoter for the Center for Community Health Promotions.
"If I can get one person to consider going in for a preventative screening, it is worth it," Marchello told the Sunnyside Daybreak Rotary Club members Wednesday morning.
"We are in the business of preventing cancer and creating diabetes awareness, as well as reducing exposure to pesticides," he said.
Marchello, who has worked with the Sunnyside office of the Center of Community Health Promotions for the past seven years, said the center is an outreach program of the Fred Hutchinson Cancer Research Center in Seattle.
The center staff works throughout the Lower Yak-
ima Valley to provide education, increase awareness and promote healthy lifestyles, explained Marchello.
Their methods are a little unconventional. Marchello said he often take his educational materials directly into the homes of the populations he is trying to reach, at house parties.
"We have the opportunity to talk about such things as breast cancer or colon cancer in a more intimate setting,"
Marchello said.
He said the center's goal is to work with the community to reduce the health disparities experienced by populations living in the Yakima Valley.
Marchello said researchers and health promotion programs have been in the Yakima Valley for the past 16 years, working to create an awareness about such things as cancer detection, prevention and treatment.
Currently, one of the biggest tools the center has in its arsenal for cancer awareness is a 20x30-foot long inflatable colon. Marchello said the community health promoters are using it at community events like the recent American Cancer Society Lower Valley Relay For Life.
The giant visual aid illustrates the progression of colon disease from polyps to deadly cancerous cells, he explained. Its presence can often change a person's mind about getting a colon screening, he added.
"I was talking with a gentleman at the Relay For Life event discussing colorectal cancer and the lifesaving screenings which are available," Marchello said.
"At first he didn't seem interested in having the screening, but by the time he was ready to leave, he said he was going to call his doctor for an appointment to get the screening," he said.
"Those kinds of conversations make my job worth it," Marchello said.