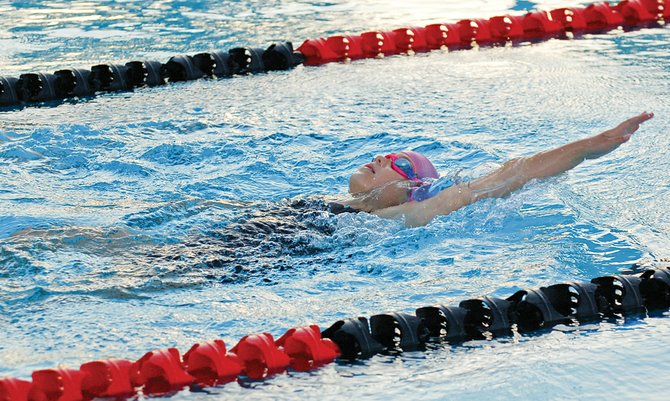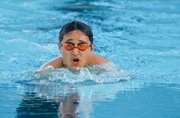 Not facing much of a test in their season opener, the Sunnyside Sharks rang up a convincing 639-60 victory over the Naches Barracudas last night.
The skeleton crew Naches showed up with at the Sunnyside pool Tuesday evening, which didn't have a lot of meat on the bone, only came away with five victories in the 68 races that were staged.
Two of those five wins were garnered by Wyatt Anderson, a boys 8&U swimmer. The Naches youngster emerged victorious in the 50-meter butterfly and backstroke events, winning by margins of four and six seconds, respectively.
Anderson had to settle for third-place honors in the 50-meter breaststroke and freestyle races. In the breast, Sunnyside's Jasiah Van Doren and Gage Newhouse finished first and second, and in the free it was Carter Hauver and Newhouse taking the first two spots for the Sharks.
Sunnyside's Avery Bonzi had a big night for the winning team, sweeping the four girls 8&U races. She was the lone swimmer not to be DQ'd in the 50-meter breaststroke, was four seconds ahead of the competition in the 'fly, five-and-a-half seconds better than the runner-up in the backstroke and won by a whopping margin of 10-and-a-half seconds in the free.
Myles Newhouse, too, scored big points for the Sharks last night. A boys 10&U competitor, he won four of the five events in his age division. His margins of victory in the 50-meter races ranged from 5.4 seconds to 11.1. In the 200-meter individual medley, Newhouse just got by teammate Logan Rodriguez, winning by 1.11 seconds.
Also making a big splash for Sunnyside was Janessa Frank. A girls 14&U swimmer, she was untouchable in all five events in her age division. The five-time winner – along with teammates Jessica Scheenstra, Emily Banks, Makilie Hernandez, Chloe Messmore, Macy Clough, Kylah Bunch and Brielle Newhouse – picked up every point possible in their age division except for the fourth-place finish in the 200-meter IM.
Sunnyside's Brittany Broersma, a four-time winner at girls 18&U, swam unopposed last night.
The Sharks are expecting much more of a challenge this coming Thursday when they trek to Prosser to take on the Piranhas.
NACHES 60 – SUNNYSIDE 639
200-Meter Medley Relay
Girls 10&U
1st-Sunnyside 4:07.83
Boys 10&U
1st-Sunnyside 4:03.87
Girls 12&U
1st-Sunnyside 3:24.11
Boys 12&U
1st-Sunnyside 3:27.68
Girls 14&U
1st-Sunnyside 2:38.87
Boys 14&U
1st-Sunnyside 2:38.96
Girls 18&U
1st-Sunnyside 2:37.61
Boys 18&U
1st-Sunnyside 2:30.85
50-Meter Butterfly
Girls 8&U
1st-Avery Bonzi (S) 1:20.47, 2nd-Nadia Stroh (S) 1:50.77
Boys 8&U
1st-Wyatt Anderson (N) 1:18.54, 2nd-Efran Hurtado (S) 1:22.68, 3rd-Kaiden Frank (S) 1:27.62, 4th-Jayden Lopez (S) 1:34.60
Girls 10&U
1st-Daniella Duran (S) 54.61, 2nd-Chamelle Abringe (S) 58.15, 3rd-Tayler Bonzi (S) 1:18.27, 4th-Kellynn Scott (N) 1:26.18
Boys 10&U
1st-Myles Newhouse (S) 59.32, 2nd-Logan Rodriguez (S) 1:04.74, 3rd-Riley Pasicaran (S) 1:05.78, 4th-Cannon Hauver (S) 1:07.88
Girls 12&U
1st-Amelia French (N) 45.02, 2nd-Ryen Bonzi (S) 47.25, 3rd-Arianna Sanchez (S) 51.27, 4th-Bailey Hazzard (S) 52.83
Boys 12&U
1st-Clay Schilperoort (S) 46.46, 2nd-Jaden Siller (S) 48.53, 3rd-Gabriel Oswalt (S) 50.63, 4th-Austin Villanueva (S) 52.67
Girls 14&U
1st-Janessa Frank (S) 37.79, 2nd-Jessica Scheenstra (S) 39.87, 3rd-Emily Banks (S) 40.06, 4th-Makilie Hernandez (S) 40.49
Boys 14&U
1st-Carlo Rodriguez (S) 38.97, 2nd-Parker Van de Graaf (S) 39.23, 3rd-Johnny Heffron (S) 46.03, 4th-Larson Smith (N) 1:02.40
Girls 16&U
1st-Katelyn Banks (S) 35.05, 2nd-Ayden Harrington (S) 35.73, 3rd-Lindsay Schilperoort (S) 38.82, 4th-Summer Hazzard (S) 39.85
Boys 16&U
1st-Fox Rodriguez (S) 32.39, 2nd-Matthew Marquez (S) 33.31, 3rd-Michael Gallagher (S) 37.33, 4th-Matthew Gallagher (S) 55.60
Girls 18&U
1st-Brittany Broersma (S) 33.98
50-Meter Breaststroke
Girls 8&U
1st-Avery Bonzi (S) 1:34.33
Boys 8&U
1st-Jasiah Van Doren (S) 1:25.55, 2nd-Gage Newhouse (S) 1:25.94, 3rd-Wyatt Anderson (N) 1:40.10, 4th-Kyle Clough (S) 1:46.63
Girls 10&U
1st-Chamelle Abringe (S) 1:00.69, 2nd-Daniella Duran (S) 1:13.56, 3rd-Jessiela Gill (S) 1:14.80, 4th-Kellynn Scott (N) 1:15.97
Boys 10&U
1st-Myles Newhouse (S) 58.43, 2nd-Cannon Hauver (S) 1:09.57, 3rd-Logan Rodriguez (S) 1:11.29, 4th-Leif Van Doren (S) 1:11.43
Girls 12&U
1st-Bailey Hazzard (S) 50.18, 2nd-Arianna Sanchez (S) 55.11, 3rd-Lala Campos (S) 55.54, 4th-Abigail Albrecht (S) 58.75
Boys 12&U
1st-Clayton Robert-Hill (S) 52.71, 2nd-Patrick Gallagher (S) 54.26, 3rd-Austin Villanueva (S) 57.57, 4th-Jonathon Lara (N) 57.63
Girls 14&U
1st-Janessa Frank (S) 44.14, 2nd-Chloe Messmore (S) 45.50, 3rd-Macy Clough (S) 45.54, 4th-Emily Banks (S) 46.09
Boys 14&U
1st-Johnny Heffron (S) 42.08, 2nd-Jace Ziegler (S) 47.49, 3rd-Andrew Gallagher (S) 48.73, 4th-Parker Van de Graaf (S) 48.90
Girls 16&U
1st-Kalie Bestebreur (S) 43.99, 2nd-Katelyn Banks (S) 44.85, 3rd-Aydan Harrington (S) 48.00, 4th-Lindsay Schilperoort (S) 49.73
Boys 16&U
1st-Fox Rodriguez (S) 36.18, 2nd-Matthew Marquez (S) 41.92, 3rd-Michael Gallagher (S) 49.27, 4th-Matthew Gallagher (S) 52.19
Girls 18&U
1st-Brittany Broersma (S) 42.26
50-Meter Backstroke
Girls 8&U
1st-Avery Bonzi (S) 1:04.17, 2nd-Syrina Arevalo (S) 1:09.67, 3rd-Jentry Simpson (S) 1:22.59, 4th-Nadia Stroh (S) 1:27.25
Boys 8&U
1st-Wyatt Anderson (N) 1:10.09, 2nd-Kaiden Frank (S) 1:16.04, 3rd-Garrett Wagner (S) 1:17.83, 4th-Kyle Clough (S) 1:20.96
Girls 10&U
1st-Daniella Duran (S) 54.48, 2nd-Chamelle Abringe (S) 57.63, 3rd-Cecilia Stroh (S) 1:04.34, 4th-Tayler Bonzi (S) 1:05.43
Boys 10&U
1st-Benjamin Anderson (S) 1:01.28, 2nd-Colton Berg (S) 1:02.47, 3rd-Riley Pasicaran (S) 1:07.90, 4th-Logan Rodriguez (S) 1:07.97
Girls 12&U
1st-Ryen Bonzi (S) 49.85, 2nd-Arianna Sanchez (S) 49.87, 3rd-Shelby DeVore (N) 51.80, 4th-Amerie Stroh (S) 52.86
Boys 12&U
1st-Clay Schilperoort (S) 42.37, 2nd-Patrick Gallagher (S) 47.69, 3rd-Maxx Black (N) 55.99, 4th-Austin Villanueva (S) 56.52
Girls 14&U
1st-Janessa Frank (S) 44.55, 2nd-Kylah Bunch (S) 44.61, 3rd-Jessica Scheenstra (S) 47.28, 4th-Emily Banks (S) 47.55
Boys 14&U
1st-Parker Van de Graaf (S) 42.09, 2nd-Carlo Rodriguez (S) 46.21, 3rd-Jace Ziegler (S) 51.67, 4th-Johnny Heffron (S) 55.78
Girls 16&U
1st-Aydan Harrington (S) 40.24, 2nd-Katelyn Banks (S) 40.41, 3rd-Lindsay Schilperoort (S) 40.67, 4th-Kalie Bestebreur (S) 40.91
Boys 16&U
1st-Matthew Marquez (S) 37.75, 2nd-Fox Rodriguez (S) 38.23, 3rd-Matthew Gallagher (S) 42.13, 4th-Michael Gallagher (S) 50.63
Girls 18&U
1st-Brittany Broersma (S) 37.63
50-Meter Freestyle
Girls 8&U
1st-Avery Bonzi (S) 1:02.54, 2nd-Srina Arevalo (S) 1:13.11, 3rd-Jasady Siller (S) 1:36.73, 4th-Alianna Garcia (S) 1:40.08
Boys 8&U
1st-Carter Hauver (S) 51.29, 2nd-Gage Newhouse (S) 55.57, 3rd-Wyatt Anderson (N) 55.99, 4th-Kaiden Frank (S) 1:02.97
Girls 10&U
1st-Chamelle Abringe (S) 44.00, 2nd-Daniella Duran (S) 47.33, 3rd-Tayler Bonzi (S) 55.62, 4th-Jessiela Gill (S) 58.00
Boys 10&U
1st-Myles Newhouse (S) 45.35, 2nd-Cannon Hauver (S) 50.70, 3rd-Cody Smeenk (S) 53.08, 4th-Benjamin Oswalt (S) 54.24
Girls 12&U
1st-M. Clark (N) 37.33, 2nd-Ryen Bonzi (S) 38.55, 3rd-Arianna Sanchez (S) 40.24, 4th-Shelby DeVore (N) 43.07
Boys 12&U
1st-Clay Schilperoort (S) 38.69, 2nd-Patrick Gallagher (S) 39.53, 3rd-Gabriel Oswalt (S) 41.89, 4th-Clayton Robert-Hill (S) 42.23
Girls 14&U
1st-Janessa Frank (S) 33.22, 2nd-Jessica Scheenstra (S) 34.48, 3rd-Emily Banks (S) 37.35, 4th-Brielle Newhouse (S) 37.68
Boys 14&U
1st-Parker Van de Graaf (S) 34.32, 2nd-Andrew Gallagher (S) 35.42, 3rd-Carlo Rodriguez (S) 36.08, 4th-Johnny Heffron (S) 37.93
Girls 16&U
1st-Katelyn Banks (S) 33.47, 2nd-Aydan Harrington (S) 34.07, 3rd-Lindsay Schilperoort (S) 34.33, 4th-Kalie Bestebreur (S) 36.89
Boys 16&U
1st-Matthew Marquez (S) 29.25, 2nd-Fox Rodriguez (S) 31.43, 3rd-Michael Gallagher (S) 34.94, 4th-Matthew Gallagher (S) 36.99
Girls 18&U
1st-Brittany Broersma (S) 30.42
200-Meter Freestyle Relay
Girls 10&U
1st-Sunnyside 3:28.63
Boys 10&U
1st-Sunnyside 3:33.51
Girls 12&U
1st-Naches 3:07.03
Boys 12&U
1st-Sunnyside 2:54.58
Girls 14&U
1st-Sunnyside 2:25.63
Boys 14&U
1st-Sunnyside 2:30.73
Girls 18&U
1st-Sunnyside 2:17.87
Boys 18&U
1st-Sunnyside 2:18.16
200-Meter Individual Medley
Girls 10&U
1st-Chamelle Abringe (S) 4:36.30
Boys 10&U
1st-Myles Newhouse (S) 4:47.29, 2nd-Logan Rodriguez (S) 4:48.40, 3rd-Benjamin Anderson (S) 5:12.06
Girls 12&U
1st-Arianna Sanchez (S) 3:57.93, 2nd-Shelby DeVore (N) 4:13.76, 3rd-Isabela Stephens (N) 4:33.43, 4th-Alexis Kearby (N) 4:38.50
Boys 12&U
1st-Clay Schilperoort (S) 3:38.80, 2nd-Austin Villanueva (S) 4:22.47, 3rd-Maxx Black (N) 4:25.33, 4th-Clayton Robert-Hill (S) 4:41.40
Girls 14&U
1st-Janessa Frank (S) 3:37.85, 2nd-Jessica Scheenstra (S) 3:44.49, 3rd-Kylah Bunch (S) 4:11.95, 4th-Heather Gurney (N) 5:16.63
Boys 14&U
1st-Parker Van de Graaf (S) 3:26.15, 2nd-Larson Smith (N) 4:58.43, 3rd-Julian Michel (S) 5:46.72
Girls 16&U
1st-Lindsay Schilperoort (S) 3:16.57, 2nd-Olivia Smith (N) 4:33.53
Boys 16&U
1st-Matthew Marquez (S) 3:02.71