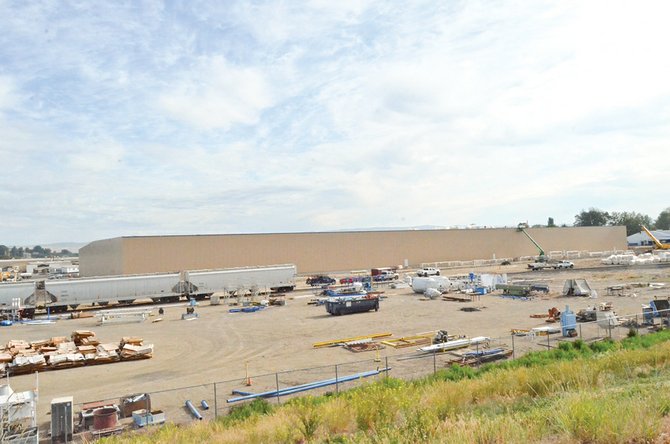 The warehouse is more than halfway finished and in approximately two months will be ready for operations.
That's according to John Helgeson of Helgeson Excavating and Construction, who is responsible for the 216,000 square foot Seneca Foods expansion project in Sunnyside.
He said the expansion involves a warehouse, which will also house the company's labeling facility.
Helgeson, who constructs buildings exclusively for Seneca, said local subcontractors have been busy working on the project the past few months.
"I like to hire local companies," he said, noting Columbia River Steel and Construction of Grandview was responsible for the warehouse structure.
"They have a good reputation…they are a very good contractor and I would recommend them," said Helgeson.
He said the plumbing and electrical work will be completed by companies from Yakima.
To build the large warehouse facility, Helgeson said two smaller buildings were removed from the property on East South Hill Road.
However, the new facility more than makes up for the square footage of those buildings.
"I knew I would be working on this project when Seneca purchased Independent Foods," Helgeson said, stating it is his first project in Washington state, although Seneca has other plants in the state.
"I have been in California and Idaho, but this is my first time in Sunnyside," said Helgeson, stating he enjoys the work he does for Seneca.
Currently, crews are installing the exterior walls and the roof to the warehouse. They will soon begin working on the interior of the structure.
The estimated cost of the project upon completion is $23 million.