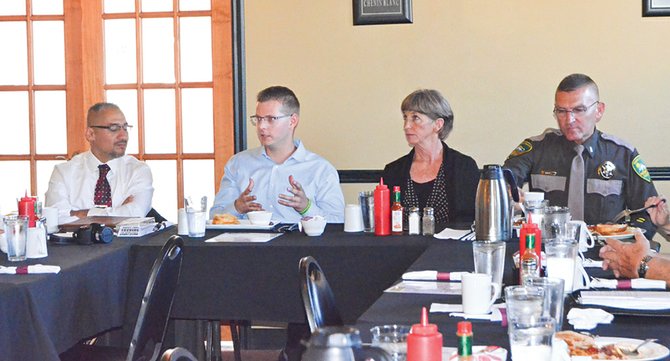 This morning (Friday), four candidates who will be on the Aug. 5 Primary Election ballot spoke to those attending the Sunnyside Republican Club meeting, sharing their experience and qualifications.
Jose Trevino and Janelle Riddle are both vying for the position of county clerk.
Trevino spent more than 16 years in law enforcement and is currently working for the Department of Labor and Industries as a fraud investigator.
He also serves on the Granger City Council.
Trevino said his years of law enforcement have provided him with an understanding of the responsibilities of the county clerk.
He wants to streamline programs and operations in the county clerk's office, finding efficiencies and improving jury selection.
Trevino also wants to improve the relationship between the clerk's office and the courts.
When asked about case backlogs in the court, Trevino said the county clerk doesn't work directly on cases.
However, he said, the county clerk can "…help expedite the process." He said the clerk can ensure there are sufficient jury pools to move cases through the system. He said that also involves working with the auditor's office.
Riddle, too, said the clerk does not control caseloads. She said the clerk is responsible for ensuring the filing is handled efficiently and expediently.
She has worked side by side with her husband, who owns and operates an excavation company.
Riddle said her financial background provides her an understanding of budgets.
She wants to promote professional public service, pursue collections of court fines and improve training in the clerk's office.
"I enjoy working with the public," said Riddle, stating she wants to bring her expertise to the clerk's office to better serve the residents of Yakima County.
She is a former administrative assistant to the county clerk's office. That experience, she said, provides her an understanding of how the public can be better served.
Speaking about his desire to serve as county auditor, Micah Cawley said he wants to look into ways to prevent voter fraud.
He said he understands there are issues with ballots being mailed to homes where the individual no longer lives.
Cawley there is a need to verify if an individual can vote legally, but there is more involved in the process.
"I want to clean up the voter rolls," he said.
"I want to find the most effective way to make sure the system is not easily defrauded," said Cawley, who currently serves as mayor for the city of Yakima.
He was 21 when he was first elected to serve on the Yakima City Council. His biggest motivator was serving the residents, ensuring that government officials were open and accountable to the taxpayers.
Cawley believes the government is about service.
Speaking to those in attendance about his bid for Yakima County Sheriff, Brian Winter talked about his background in law enforcement and the Marines.
While in the U.S. Marines, he reached the rank of lieutenant colonel. He commanded a tank battalion, consisting of approximately 1,000 troops and served in Iraq.
Winter has a four-year degree in law enforcement and joined the sheriff's office after returning from Desert Storm.
Since then, he moved up in the ranks, and is currently the only lieutenant in the department.
Winter said, "I believe a sheriff needs to be responsive to the needs of the citizens."
He said he has been responsible for nearly every operation within the sheriff's office. "I leave the bookkeepers alone."
Since 1995, Winter has worked with school officials throughout Yakima County. He has helped officials evaluate security systems and promoted new methods for responding to active shooter scenarios.
"We cannot have our head in the sand," he said, stating that has been his philosophy when speaking to school officials about security.
Winter said he also believes the public needs to trust the sheriff's department. That has become a priority for him.
When asked about gangs and school personnel carrying weapons to protect students, Winter said he supports any security measure schools are willing to take.
If teachers want to carry guns on campus, he said they must receiver proper training.
As for gang issues in Yakima County, Winter said everyone needs to work together.
"Gangs are a problem that will never be solved by one agency."