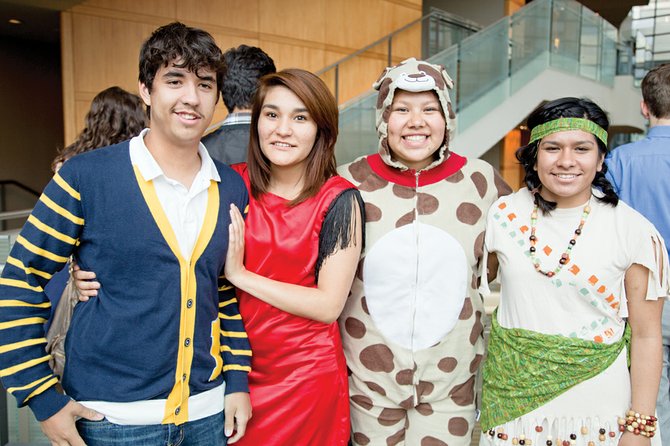 SEATTLE – High school students from across Washington state packed Benaroya Hall this past Monday night for the 12th annual 5th Avenue Awards, honoring high school musical theater.
The awards event is a high school version of the Tony Awards, sponsored by Wells Fargo Bank, with additional support from Alaska Airlines.
The house was packed with 2,000 teenagers, dressed in costume representing their schools' musical theater productions.
Many of the teens cheered for their peers as they performed musical excerpts and accepted awards for top student achievements in musical theater.
The acclaimed event, directed this year by Mathew Wright, handed out awards in 21 categories ranging from outstanding overall musical production to outstanding lobby display.
"The high school awards is always an exciting night to be with the 5th Avenue," says Wells Fargo Senior Vice President of Community Affairs Mark Dederer.
"It is events like this that celebrate arts, education and students, that bring a special energy to the theater and to the participating schools. The student performances are always electrifying and Wells Fargo is honored to support this event and wish congratulations to all the nominees and recipients," he said.
Top honors were presented to Edmonds Heights K-12 for its production of "Pippin."
Sunnyside High School's drama program earned special honors for educational impact for its production of "Bye Bye Birdie."
SHS and Sunnyside Christian earned the same award for "Peter Pan."
Sunnyside High School's Alyson Spidle was nominated for outstanding performance by an actress in a featured ensemble role for her portrayal of Ursula in "Bye Bye Birdie."
Grandview's production of "Into the Woods" received an honorable mention and special honors for educational impact.
Outstanding Performance by an Actress in a Supporting Role honorable mention honors were received by Grandview's Inez Torres, who portrayed Little Red.
In addition, Sunnyside High School received honorable mention honors for its lobby display for "Bye Bye Birdie."