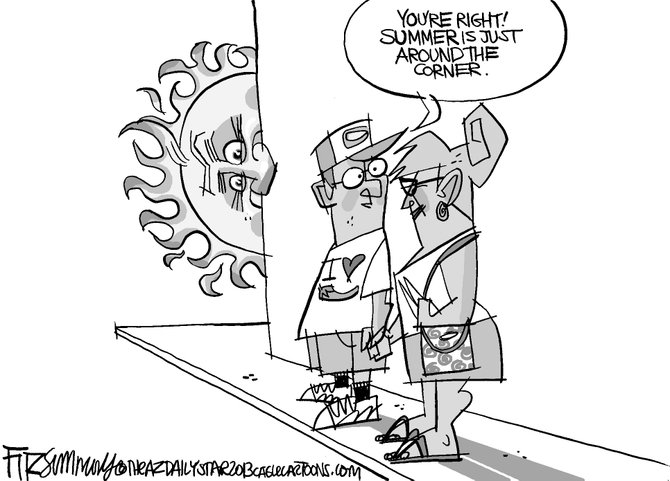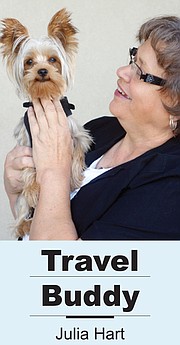 The first day of summer is still a week away, but for Sunnyside School District kids, at least, summer began this past Wednesday.
I always wonder what kids get to do now, the ones whose parents are too afraid to let them play outside.
I think kids must get pretty cranky just lying around the house watching television and playing video games all day, every day. I sure would have and I know my own children would have hated that as well.
Thankfully, that is not the case in my neighborhood. My canine pal, Buddy, and I are excited that we get to spend our summer watching our neighbor kids play soccer on the lawns, splash around in plastic wading pools or just ride their scooters and bikes up and down the sidewalks every day.
I can almost guarantee one of the boys in the neighborhood will get a basketball game going before too long. And, I know the kids at another house on the block will be busy creating chalk art on the sidewalks and driveways.

I can remember what it was like trying to find activities to keep my own children busy while I was at work each summer.
Sometimes I just ran out of ideas and I would resort to child labor activities. Their least favorite activity, although it was my personal favorite, was a day full of endless household chores. I always felt it would at least temporarily keep my little girls out of trouble.
Honestly, most of those boring cleaning, laundry and weeding chores never really got done, even after school started in late summer. Although one summer the girls painted our then two-story house, but they were a little older at the time.
Their favorite thing to do was to skip off to the Sunnyside municipal pool and while away the summer afternoon paddling around the pool. On their way home, they would nearly always stop at the old Dairy Queen, which was then located next to Safeway, making it easy to get a cool treat on the way home.
So, what to do with your kids this summer?
Well, if one of them wanted a little job, like say walking dogs for a little summer pocket change, I know a rascally little Yorkie who could use some of his liveliness walked out of him.
Mowing lawns is another option, although I know those are jobs and not really options for having fun. Still, with the extra change in your child's pocket he or she can pay for a swimming session at the city pools both here in Sunnyside and in Grandview.
I am pretty sure the Sunnyside Public Library will soon announce its summer reading program, which is always fun.
While Sunnyside's South Hill Park no longer has a Wells Fargo walking trail to race around, there are tennis courts and ball fields and nice playground equipment located near the Sunnyside Community Center. The center, by the way, is open most weekdays with a short list of day activities being planned by Sunnyside Parks and Recreation Director Megan Razey.
Older kids can always find opportunities for volunteering at local nursing homes, museums and even at schools, where summer help is often needed.
My girls very seldom had an opportunity to be bored, because like Buddy, I could always find something for them to do.
In fact, this summer it is time again to paint the house. So daughter Sarah, who is also on summer break, will be out painting my humble single-story abode.
Maybe this time I'll pay for the swimming sessions and ice cream.
More like this story