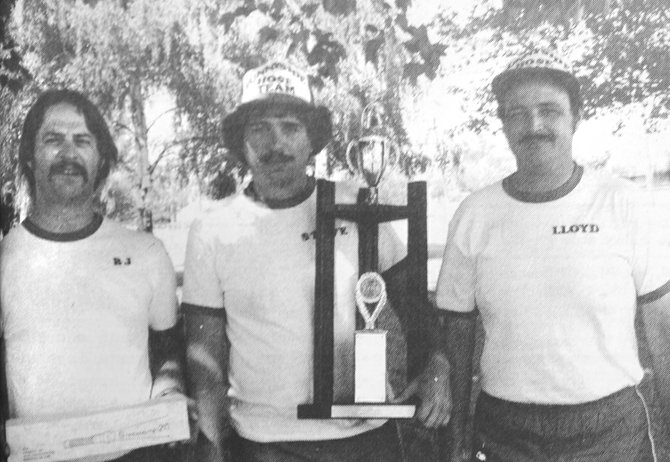 110 YEARS AGO…(1904)
The Sunnyside Railway Company was incorporated after numerous delays. Trustees included Walter N. Granger, George P. Eaton, A.B. Flint, Morris Sisk, Naaman Woodin, C.E. Woods, S.J. Harrison, F.H. Gloyd and F.L. Pitman. The men hailed from Zillah to Prosser.
100 YEARS AGO…(1914)
Hugh Gray of Grandview was tried by a jury in that town's justice court for assaulting a horticulture inspector who wanted to look over Gray's orchard for blight. The jury fined Gray $27.50.
90 YEARS AGO…(1924)
Clarence Brewer resigned as manager of the Tum-A-Lum Lumber yard in Mabton. John Long, manager of the Sunnyside yard, was tapped to succeed him.
80 YEARS AGO…(1934)
Students from Sunnyside who graduated from Washington State College included Clinton M. Okerstrom with a Bachelor of Science degree in agriculture, Howard L. Miller with a Bachelor of Arts degree in speech, Gordon B. Peck with a Bachelor of Science degree in mining and Helen F. Arms with a Bachelor of Arts degree in secretarial science.
70 YEARS AGO…(1944)
Sunnyside was selected as the location of a new U&I Sugar plant to be constructed after WWII.
Rev. John Boosinger of Enid, Okla. was named the new pastor to serve the parishioners at the First Christian Church of Sunnyside.
60 YEARS AGO…(1954)
Jerry Taylor of Sunnyside was elected American Legion Sixth District commander.
Sunnyside contractor Joe E. Venne was awarded the contract for building a new school for Dorothy School District 24, located in the Glade area.
50 YEARS AGO…(1964)
Capt. Leonard L. Montgomery of Sunnyside as-
sumed command of Company C 379th Engineer Battalion, the local reserve unit.
Mayor Lloyd Smith was directed by the Sunnyside City Council to write a letter to state legislators opposing a ban on parking meters. The council cited the loss of $16,500 in revenue if the ban was approved by state lawmakers.
40 YEARS AGO…(1974)
Sunnyside's historic First Brethren Church was demolished to make way for a new building at the corner of Seventh Street and Franklin Avenue.
City Manager Bill Odermott was targeted as the cause of turnover at the Sunnyside Police Department. More than 100 citizens crowded city hall for a city council meeting, demanding a
solution to the problem.
30 YEARS AGO…(1984)
Sunnyside's Marty Owens broke the Washington state women's weightlifting record in the bench press, lifting 145 lbs. at a power lifting meet in Spokane. She completed a squat lift of 230 lbs. and a dead lift of 305 lbs. for a combined total of 680 lbs. Runner-up at the meet was Arlene Webster, also of Sunnyside. She had a combined lift total of 530 lbs.
Sunnyside Fire Chief Gary Cole honored Daniel Bott for saving the life of a child who was strapped into a burning car.
20 YEARS AGO…(1994)
After being asked by the Sunnyside City Council to keep tabs on cruising in Sunnyside, Police Chief Wallace Anderson determined most of the motorists cruising Sunnyside's downtown were between the ages of 19 and 34. He also determined a majority of them were from Sunnyside and other Lower Valley cities, not from Yakima as originally believed.
The Lower Valley Royals baseball team swept the Hermiston Shockers 13-8, 9-8 in a doubleheader. The Royals line-up included Tyler Alseth, Seth Johnston, Josh Busey, Felix DeLeon, Jason Bangs, Scott Tweedy, Todd Chapman, Dan Krebs, Justin Jorgenson, Greg Wright, Derek Santo and Tom Ammerman.
10 YEARS AGO…(2004)
The Sunnyside City Council, made up of Don Vlieger, Bruce Ricks, Mike Farmer, Alex de la Cruz, Bengie Aguilar and Mayor Ed Prilucik, voted 4-2 in favor of re-naming South First Street Ronald Reagan Parkway. Councilman Jim Restucci was absent from the meeting.