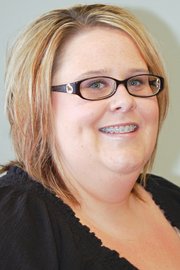 Age: 29.
Spouse: A.J.
Children: Just our 3-year-old Yorkie-Chihuahua mix, Miss Daisy.
Occupation and place of work: Third grade teacher at Chief Kamiakin Elementary School.
My favorite part of the Yakima Valley is… most of my family and friends are in the area.
When I was a child, I wanted to grow up to be... a radio DJ.
First job I ever had was… working at Georgette's Country Gift Shop in Grandview.
If a movie was made of my life, the actor/actress I'd want to play me is... Melissa McCarthy...that woman is so funny.
The best gift I ever received was... a good relationship with my dad before he passed away.
The best piece of advice I ever received was... "If you do the foot work, things will work out the way they're supposed to."
My favorite dessert is... Dairy Queen's Peanut Buster Parfait.
One of my most memorable moments, besides getting married or having children was... becoming an auntie to my spunky niece, Kyleen.
If I could witness any event past, present, or future, I would want to see... the day a cure for all cancers has been found.
I'd love to learn how to... do hair, even though I went to beauty school...yikes.
The furthest I have been away from home is when I went to... Texas.
My favorite leisure activity or hobby is... barbecues with family and friends.
If I didn't have to worry about money, I'd spend my time... traveling around to all the different casinos and winning while I'm at it.
The one word that best describes me is... funny.
If I could change one thing about myself it would be... I would be a Zumba master.