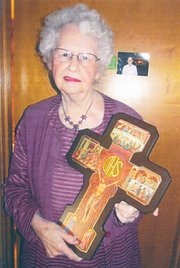 A recent Sunday morning mass at St. Joseph's Catholic Church in Sunnyside offered a surprise for Carol Johnson.
A member of the church since she and husband George moved here in 1960, Johnson was honored in front of parish members for her dedication in detailing the church's history.
Father Tom Bunnell of St. Joseph's presented Johnson with a church historian plaque.
"I really was surprised!" Johnson said. "I thought maybe it was an award for the prayer meetings."
She has led Bible study and prayer sessions in the couple's home each Tuesday for the past 40 years, with anywhere from 10 to 40 visitors – some from as far away as the Tri Cities.
She said being recognized for her efforts in collecting photographs and history of every priest and nun at St. Joseph's, as well as the church's school, was rewarding.
"To me, it was a great honor," Johnson said. "They gave me something that shows what this place is all about."