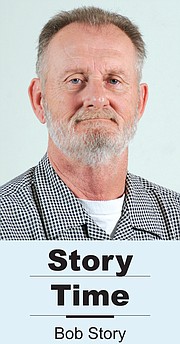 Was sitting in my back yard the other night and watched as a robin pulled a worm from my freshly watered grass. Watched as that bird pecked and picked apart that nightcrawler, slurping it down.
Muttered to the wife, who was enjoying the cool summer evening in the lawn chair beside me, "…that's kind of a reminder why you never kiss a bird."
Got me to thinking about some other "never do" things. So, as an aid to the all those freshly graduated high school seniors, here's a short list of things not to do as you move into adulthood.
…Never eat the complimentary popcorn, nuts or pretzels from that dish sitting on the bar at your favorite pub. I'm a people watcher, and after years and years of observation – take my word – more men walk out of public restrooms having not washed their hands than the ones who do. There's a lot to be said for that old adage, cleanliness is next to Godliness.
…Never disparage someone behind their back. People may not like your assessments, but if you're man enough to say it to their face, you will earn a degree of respect.
…Never quit your job – no matter how much you hate it – until you have another one lined up. It's a humbling, "I'm a failure" feeling when you have to turn to mom or pop and ask for a loan so you can make your rent for the month.
…Never loan out, or borrow, money if you're in a casino. That's just throwing good money down a rat hole. You'll end up with empty pockets.
…Never tell someone you love them, unless you really mean it. "I love you" may be the ticket to remedy a lonely, cold winter's night, but those three words will come back to haunt you if you're not sincere.
…Never use a foot wedge when you're on the golf course. Someone is always watching, and no one likes playing with cheaters.
…Never promise a child something if you can't deliver. You'll end up feeling worse than the kid does.
…Never spell back yard as backyard, as is commonly done these days by just about everyone – including respected journalists. Until front yard and side yard are spelled as one word, stay the course with back yard. You don't have to butcher the English language just because everyone else is.
…And finally, never take as gospel words of advice from someone you don't really know. Weigh all the information, use your brain and trust your gut.