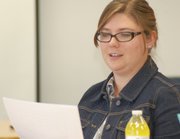 Like the cigarette advertising campaigns of the 1950s, the latest campaign to promote nicotine use is portraying the use of electronic cigarettes as sexy and liberating.
While the vaporized nicotine projects may be legal for individuals over age 18, too many youth are also obtaining e-cigarettes and the liquid nicotine used in the devices.
Some youths, according to health experts, are already finding ways to transform marijuana into a liquid form in order to inhale the now legalized drug.
But, not only is the use of nicotine and marijuana illegal by persons under age 18, it is unhealthy for the youth, said Heather Massart, a spokesperson for the Yakima County Health District.
Speaking to a small Sunnyside United group Thursday morning, Massart cautioned the coalition to know where the e-cigarette kits are being sold in the community.
"In many cases the e-cigarettes are on display next to candy in convenience stores, making it easily accessible for minors," Massart said.
Not only is the product gaining in popularity by adult smokers, e-cigarettes are being seen used in public places where smoking of cigarettes has been banned by state law, Massart explained.
Massart, who is a native of Moses Lake, said she recently took a tour of her hometown and found that of the 16 convenience stores in the city, 15 were selling e-cigarettes and accompanying products.
She said mall kiosks, gas stations, as well as online shopping are all locations were the e-cigarette products are readily available.
"Do you know if the product is being sold in your community and do you know if it is out of reach of minors and children," she asked.
Massart said one of the dangers of the liquid nicotine used in the e-cigarettes is that while only a few drops are used in the devices, the Centers of Disease Control is seeing an increase in the number of accidental ingestion of nicotine reports.
In 2008, the CDC reported one poisoning by nicotine each month, "…but in 2013, more than 215 calls made to the CDC were related to liquid nicotine use," Massart said.
Massart encouraged Sunnyside United members to begin looking into the use of e-cigarettes in Sunnyside and consider placing the nicotine product under the same restrictions as cigarettes and other tobacco products.