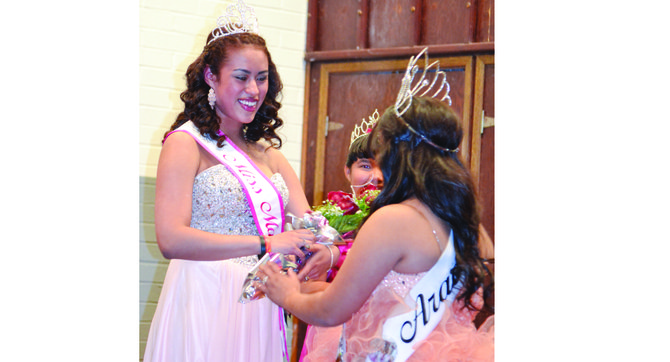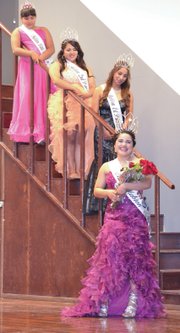 MABTON – Naida Gusby was crowned Miss Mabton last Friday in front of a nearly full house at the Mabton Learning Center.
Before Gusby began her reign, though, it was time for the 2013-14 court of Miss Mabton Esperanza Leon, First Princess Angela Martinez and Second Princess Araceli Velasquez to have one more moment in the spotlight.
They were joined by Little Miss Mabton First Princess Lily Villa in saying farewell and expressing thanks to their family and Mabton community.
The Greater Mabton Association and the Mabton School District helped to support Friday night's Miss Mabton Pageant.
During the ceremony there was also a dance performance by Princess for a Day participants inspired by the song, "Under the Sea."
The pageant – themed "Summer Dreams" – was emceed by Vanessa Cervantes and included an opportunity to introduce visiting royalty, such as the Miss Sunnyside Court.
That all led to Gusby's big moment, as she received her crown, sash and flowers from members of the outgoing Miss Mabton Court.
Gusby indicated one of her priorities during the year-long reign – which kicked off with Mabton Community Days last Saturday – is to help in cleaning up and maintaining the Mabton Cemetery.
Gusby's plans after high school include majoring in social work.