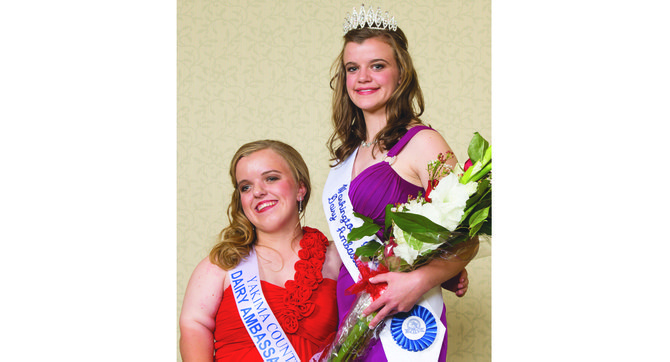 EVERETT – Janis DeJager from Everson, representing Whatcom County, is the 2014-15 Washington State Dairy Ambassador.
Marissa Apperson from Rochester and Marcy Bartelheimer from Snohomish were selected as Alternate Ambassadors.
Janis was one of six finalists at the 59th annual Washington State Dairy Ambassador Coronation at the Grand Ballroom of the Holiday Inn in Everett.
Other finalists included Yakima Valley Dairy Ambassador Katie Hutchins, Samantha Schmidt of Clark County and Mikel Levi of Snohomish County.
As a representative of the Dairy Farmers of Washington, the State Dairy Ambassador and alternates will visit schools, attend county fairs, appear at Washington Interscholastic Activities Association (WIAA) events and speak before the Washington state legislature promoting the health and nutrition benefits of dairy products.
A Dairy Ambassador typically makes 400 public appearances during her year-long tenure.
DeJager and her alternate ambassadors will also receive scholarships to continue their education.
The dairy industry was well represented by 2013-2014 Washington State Dairy Ambassador Erin Peek and alternate State Dairy Ambassadors Annie Birklid and Olivia Zurcher.
Administrated by the Washington State Dairy Women, the Dairy Ambassador program began in 1955 to mentor and support outstanding young women.
More like this story