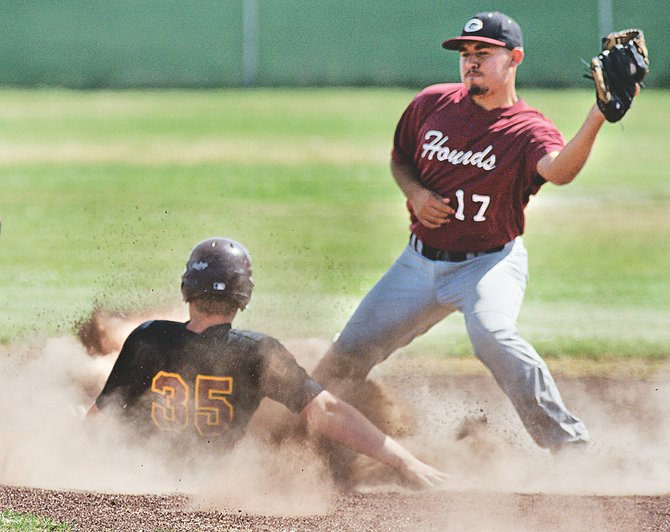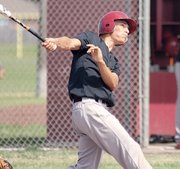 GRANDVIEW – Two, two-hit pitching performances in a doubleheader sweep over Grandview yesterday boosted the Sunnyside Christian High School summer baseball team's record to 4-4 on the season.
Brant Bosma and Wyatt Hoff combined to limit the Grandview Greyhounds to just two hits in Monday's opener. With a 12-hit attack behind the duo, the Knights prevailed easily, 12-3.
Sunnyside Christian earned a 14-0 shutout in the nightcap, shortened to five innings because of the 10-run mercy rule. Jacob Palomarez went the distance atop the mound for the Knights in the twin bill finale, and gave up just two hits, as well.
In pitching all five innings, Palomarez allowed just four Grandview batters to reach base – via the two hits and two walks. He fanned seven in the shortened five-inning affair.
"Jacob had a pretty good curve working," said Sunnyside Christian Coach Tyler Alseth. "He was throwing it for strikes and getting them to chase it."
Palomarez got plenty of run support from his teammates in the second game. All told, the Knights banged out 12 hits that game.
Drew Puterbaugh, especially, stood out at the plate. He delivered a 3-for-3 performance, which included socking a double to send a teammate home in Sunnyside Christian's 10-run explosion in the top of the third.
Cade Bosma, who'll be a freshman this fall, added a 2-for-3 effort at the dish. He lashed a two-run single in the third and had an RBI double in the fourth frame.
Also coming through with key hits in the nightcap for the Knights were Reid Benjert, who poked a two-run double in the third, and sophomore-to-be Ryan Roedel, who crunched a fourth-inning double off the fence.
Sunnyside Christian had 12 hits in yesterday's opener, too. Brant Bosma waved the big stick that game, going 3-for-3 with three RBI. He nearly hit for the cycle, collecting a single, double and triple.
On the mound, Bosma went five strong innings in picking up the victory. He yielded a single hit to the Greyhounds while fanning nine. He did, though, put six Grandview batters on base via walks.
Hoff pitched the final two innings of the first game to shut the door on the 'Hounds.
Coming through with two hits apiece in the 12-3 win over Grandview were Puterbaugh, Palomarez and Brandon Moore.
Sunnyside Christian was scheduled to play Tri-Cities Prep today (Tuesday) in Richland, but that twin bill has been cancelled. The Knights will next take the field this coming Friday at home. Game time is 3 p.m.