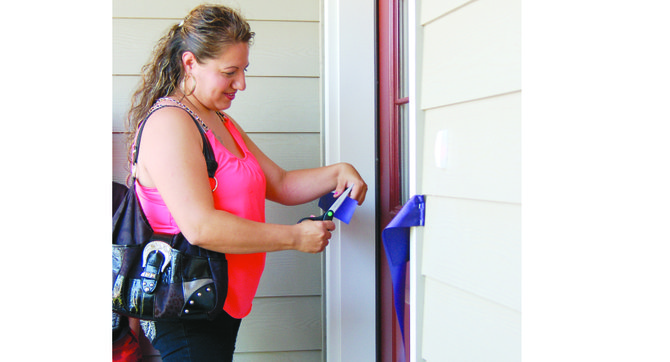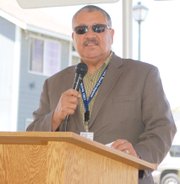 GRANGER – "This is not a small thing, no es cosa pequeña," said Mario Villanueva, the USDA's Rural Development state director and former director of Catholic Charities Housing Services speaking at a gathering celebrating the completion of four houses at Vineyard Estates in Granger.
"Relish the moment," he told the new homeowners.
The four women involved in the project each put in time and sweat equity to build their new homes, all while continuing to work to support their families. One of the women, Micaela Romero, said the work has made her confident.
"I know how to fix anything that breaks," she said.
According to Catholic Charities Housing Services Construction Coordinator Neri Tellez, the women worked on the houses for seven months, doing approximately 65 percent of the work themselves. Each woman helped with all four houses, putting in thousands of hours combined.
The new homes were blessed by the Most Reverend Joseph J. Tyson, Bishop of Yakima. He started his speech talking with the children who will be living in the new homes. He asked them if they had watched SpongeBob SquarePants. He then asked if they knew where SpongeBob lived.
"We don't want people living in pineapples," he said to the children's laughter. He blessed the gathering and later blessed each of the homes in Granger during short tours.
Isabel Garcia, Catholic Charities Housing Services single family housing program manager, said the completion of this project was more than just four homes, it also marked a lifetime achievement. She said the organization now has built more than 100 houses.
"This is more than a job, it's a mission," she said.
"We are helping people one family at a time. It's very rewarding to complete this project."
The new homeowners also spoke to the crowd, thanking them for their work.
"I want to thank everybody for helping us out," said new homeowner Andrea Vargas. "It was crazy doing this! It was a lot of hard work, and I'm sure we were a pain in the butt. Now we have homes."