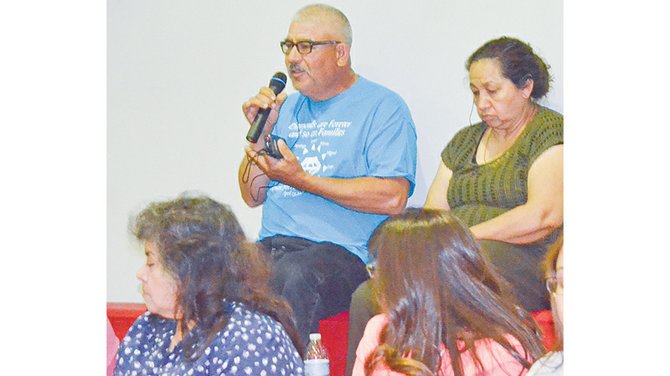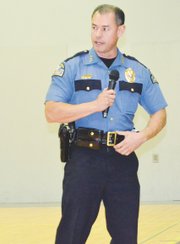 "We're trying to move forward, not backward," Sunnyside Police Officer Jim Ortiz told those attending last night's town hall meeting, the second one the city has hosted this year.
He told the crowd of approximately 40 attendees that the city is trying to work with the citizens, addressing concerns and issues.
Moving forward, said Ortiz, is important for the growth of the police department and the community.
Since the last town hall meeting this past March, Police Chief Al Escalera has been hired. City Manager Don Day said the new police chief is making a difference. He said citizens should be pleased with Escalera's professionalism and character.
"Together we can make Sunnyside a better place to live," Day told the audience.
Addressing issues that arose at the last town hall meeting, he said, has been of great importance. He said the city was asked about the crow problem in Sunnyside.
Day said equipment, such as a sound system and "cracker shells" have been purchased. Next year, the equipment will be used in an attempt to make Sunnyside an unpleasant place for the migratory birds.
He said citizens have expressed concern about the future of the police department's K-9 unit. The city, said Day, will not be eliminating the unit.
Escalera addressed the topic, stating the K-9 unit is important to the citizens and law enforcement. As a result, he plans to continue funding the unit, which was recently used in a federal investigation that took place in Toppenish.
Escalera said he envisions a police department that works with the citizens of Sunnyside.
"Police efforts won't really work without the community's support," he said.
"I understand people want to trust the police department…I can't do it without the public."
Escalera is working on a program that will help police officers and residents connect with one another. He wants officers to get out of their cars and talk to people as they are walking their dogs, doing yard work or getting the mail.
He wants citizens to feel comfortable talking to officers about concerns in the various neighborhoods.
Crime, said Escalera, "…is a community issue."
He said everyone must be involved in the process of addressing criminal activity.
Escalera was told by a citizen attending the town hall that he likes the idea, but wanted to know what the program will look like "…from A to Z."
The police chief said the program is being developed and he is uncertain what it will look like until it is structured. He said letting the public know his plans is the first step.
Escalera also noted the police department has been restructured. Addressing the concern that all command officers might be on vacation on the same day, he said the new structure of two commanders and a police chief has been designed to ensure at least one member of command will be on duty each day and there will be no overlap of vacation time.
Several citizens asked about aggressive behavior of officers. Some were concerned about officers approaching people who are out for a walk after 10 p.m. One said officers raided her home when the intended target of the raid was her neighbor.
Escalera said he doesn't know the circumstances of each individual concern. However, he believes residents would rather officers stop and ask questions when someone is out late at night.
Aggressive force, he said, is used depending on the situations officers encounter. He said the typical protocol for a home visit is for an officer to knock and introduce themselves. However, the officers may have information that the individuals living in a home pose a threat to officers.
"Officers need that switch that they can turn on and off," said Escalera.
He said officers need to survive, but they also need to be more friendly in their approach, recognizing "…good citizens, and have a balance."
Escalera said it is important to "…make sure we don't leave the good guys behind."
He said there is also a reason officers demand that a person show their hands in different encounters. If an officer visits a residence for a domestic complaint, even though the individuals are only arguing, he said it is the officers' duty to investigate and ensure it is merely an argument. If an individual has his or her hands in their pockets, the officer may tell the individual to show their hands.
That is because officers do not know the individual, they do not know if the individual poses a threat and it is unknown if the individual has a weapon inside his or her pockets.
"The officer is at a disadvantage," said Escalera.
In addition to the concerns, a couple of citizens expressed gratitude for the Sunnyside Police Department.
Alice Aguirre said, "I think you are heading in the right direction…it takes a team."