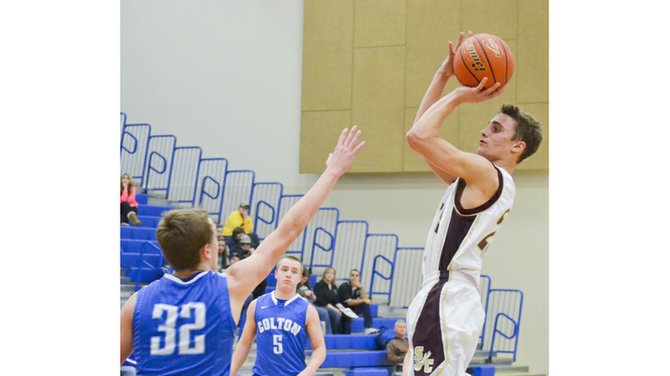 BOYS PREP BASKETBALL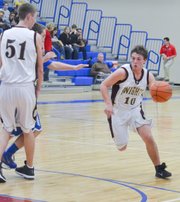 YAKIMA – In what proved to be his last game for Sunnyside Christian hoops, senior Brant Bosma willed his team to stay in the game against Colton in last Friday's State sectional contest.
Bosma's 17-point, six-rebound, three-steal night went for naught, though, as Colton won the loser-out, winner-to-state contest last Friday, 67-44.
The loss ended an impressive streak of 15 consecutive trips to State for Sunnyside Christian's boys (18-6).
"It was bound to happen," said Sunnyside Coach Brian Bosma. "We knew it was going to be tough to make it this year. It was weighing on the boys, none of them wanted to break the streak."
Despite being listed as the home team at Ike's gym, and with a large cheering core, Sunnyside Christian struggled to contain the Wildcat inside/outside combo of Dalton Patchen and Jake Straughan.
By the half Patchen already had tallied 15 points and for the game the post player poured in 26 points and hauled down 16 rebounds.
Straughan struggled from 3-point land, knocking down just 1-of-10 attempts from downtown, but burned the Knights for 17 points on an array of mid-range jumpers and drives while dishing out five assists to set up Patchen inside.
Bosma credited the 6-7 Parchen – who swatted away two shot attempts - for altering Sunnyside Christian's shot selection. He further praised the senior big man's physical play in pushing the ball inside. "He has an ability to drive into the body," the coach said of Patchen's 11-of-13 shooting at the free throw line.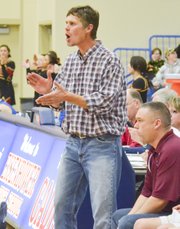 Bosma also credited Colton guard Austin Meyer's role in clearing out space in the paint for Patchen to do his damage.
Early on, Colton led 13-8 before the Knights closed out the first quarter with a 6-0 run to go up by one after the first frame.
The surge was capped by a dramatic play from forward Wyatt Hoff in grabbing an errant Colton pass in the final seconds, then sprinting back the other way for a trey to put the Knights in front 14-13.
It ended up being Sunnyside Christian's last lead of the game, as Colton came out of the blocks in the second quarter with seven straight points. The Wildcats pulled ahead by double digits, 34-24 in the final minute of the first half.
Brant Bosma went to work, though, and knocked down a bucket to pull the Knights within eight.
With less than 10 seconds to play in the half, Sunnyside Christian's Drew Scheenstra blocked a Colton shot attempt and Bosma scooped up the loose ball for one last shot.
Bosma was able to get off a last second, off-balance hook just past half-court that found nothing but net at the buzzer to bring the Knights to within 34-29 at the half.
Somehow, Colton was able to set the Sunnyside Christian rally aside and re-focus at halftime. That's because the Wildcats dominated the third quarter with a 16-3 run that all but put the game away.
"We didn't finish," was Coach Bosma's assessment of the third quarter struggle. "It seemed like they wanted it more than we did."
He was quick, though, to credit Colton for some of his team's struggles on offense, especially the Wildcats' press that gave Sunnyside Christian fits at times.
Though Brant Bosma was the only scorer in double figures for Sunnyside Christian, the Knights also received support from Scheenstra in hauling down 11 rebounds and tallying 7 points despite playing with four fouls. Hoff also scored 7 points.
Friday's loss means Sunnyside Christian won't be able to defend its State title at this week's State 1B tourney in Spokane that tips off later this week.
Coach Bosma refused to blame the one-and-done Regional scenario the WIAA created in recent years for his team's lack of a trophy.
"Whatever the format is, we want to win," he said. "If you want to win you have to be great, and we weren't great tonight."
Brant Bosma, the coach's nephew, said in essence it was Colton that was great on this night. "Give it up for Colton, they played well," he said. "We had a good run."
That run, as it turned out, was capped last year by the Knights' fifth title in seven years.
Perhaps Friday's loss is a way for Sunnyside Christian to hit the re-set button and start a new string in 2014-15.
"Maybe it's a load off for the guys and we can start again with the next team," Coach Bosma said.