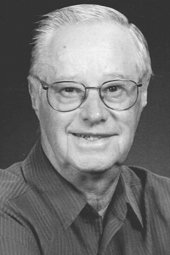 Martin "Marty" A. Drollinger, 86, of Grandview, a loving husband, father, grandfather, brother, uncle, friend, "a man admired and respected by all," and a longtime Sunnyside and Grandview businessman, went to be in the arms of his loving Savior on Thursday, Feb. 27, 2014.
Marty was born Jan. 31, 1928 in Kenesaw, Neb., the son of Lynn Robert and Virginia Lenora (Howard) Drollinger. At the age of seven the Drollinger family moved to Spokane, where Marty attended school. During high school he worked for his uncle Fred at Acme Concrete Company. Marty graduated from Mead High School with the class of 1946.
In 1947 brothers, Howard, Harley and Marty along with their parents, Lynn and Virginia, moved to Sunnyside and established Valley Ready Mix Concrete Company in Sunnyside and Grandview.
On May 1, 1948 he married the love of his life, Suzanne (Anne) Kollmar in Sunnyside. After 56 years of owning and operating Valley Ready Mix, the business was sold in 2003. His business partner, Bill Douglas, and all his employees meant the world to him. He treated them all like family. For Marty, time spent with family was a treasure.
He enjoyed taking his family and grandkids on summer vacations to Sunriver, Ore. Ski trips, rounds of golf, watching sports and hosting dinners with family and friends were also a big part of his life. Marty especially enjoyed watching beautiful sunsets from his living room windows. Those moments to him were priceless.
Marty was a classic car enthusiast, enjoyed reading, bowling and traveling with family and longtime friends.
He loved being around all of his pets, who held a special place in his heart.
Marty was an active member of Bethany Presbyterian Church serving as an Elder and Trustee, a member of Lower Valley Golf Course (now named Black Rock Creek Golf Course), past member of Grandview Rotary Club, Lower Valley Elks Club 2112 and in his younger years was a volunteer fireman for the Grandview Fire Department.
Marty is survived by his wife, Anne Drollinger of Grandview, (they had 65 wonderful years of marriage); three sons, Terry Drollinger, Mike (Norma) Drollinger, Mark (Trish) Drollinger, all of Grandview; four grandchildren, Drew (Taryn) Drollinger of Oregon City, Ore., Jeramie Drollinger of Ellensburg, Dacia Drollinger of Grandview and Keala Drollinger of Yakima; his brother, Harley (Pat) Drollinger of Naches; extended family, Cameron (Lori) Grow and family of Pullman, Chris (Shawna) Grow and family of Grandview, David (Tabitha) Foster of Lynnwood, Ashley Foster of Sunnyside, Morgan Rogers of Bellingham; and many special nieces, nephews and dear friends.
Marty was preceded in death by his parents, Lynn and Virginia Drollinger; and one brother, Howard Drollinger.
Dad and grandpa, we were blessed to have had you as a part of our lives and will always remember the stories you have shared with us. Those memories will live in our hearts forever.

Viewing and visitation will be held Tuesday, March 4, 2014, from 3 to 8 p.m. at Smith Funeral Home in Sunnyside. Graveside services will be held Wednesday, March 5, 2014, at 10 a.m. at Lower Valley Memorial Park in Sunnyside. A memorial service will be held Wednesday, March 5, 2014, at 11 a.m. at Bethany Presbyterian Church in Grandview.
Those wishing to honor Marty's memory may contribute to the Bethany Memorial Fund or the Union Gospel Mission in Yakima.

If you would like to sign Marty's online memorial book you may do so at www.funeralhomesmith.com.
Smith Funeral Homes Ltd. and Crematory in Sunnyside is in charge of arrangements.
More like this story