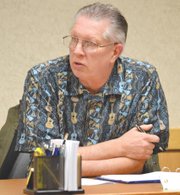 In a sure sign of progress for the Port of Sunnyside's anaerobic digester, documents were released last week for contractors looking to bid on the $7 million project.
In a note to Port of Sunnyside commissioners last night, Monday, Executive Director Jay Hester said the bid documents were released last Wednesday, with a mandatory pre-bid conference set for next Tuesday, March 11.
The bids will officially be opened Wednesday, March 26, at the port's administrative offices at 2640 E. Edison Ave.
Hester said several contractors have expressed interest in the anaerobic digester project, which upon completion will double the capacity of sequencing batch reactors at the port's industrial wastewater plant.
He noted some of the interested firms are from the Seattle area.
In related news from the Port of Sunnyside's commission meeting last night, the port's property development and project manager, Jed Crowther, said officials with the state's Department of Ecology gave a positive verbal recommendation for the anaerobic project.
The port is in the process of seeking a $1.3 million loan from the U.S. Department of Agriculture through Benton REA. Support from state officials is a good indicator, Crowther said, that the project is likely to obtain that final funding piece.
That strategy of USDA loan funding via Benton REA was a strategy the port used about 10 years ago, Crowther added, to help fund the Horizon building which now serves as the port's administrative office.
The port hopes to see construction start on the digester in April, with plans for the facility to be operational this fall.