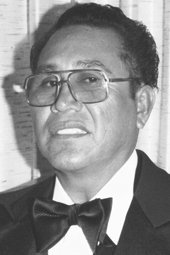 Domingo R. Castellanos, 85, of Sunnyside passed away on Thursday, Feb. 27, 2014.
He was born July 29, 1928 in Elsa, Texas to Mr. and Mrs. Antonio Castellanos. Domingo received his early education in Texas.
In February of 1947 he married the love of his life, Ernestina Valdez, in Edinburg Texas before the couple moved to Sunnyside.
Domingo worked in agriculture for many years but in the early 1960s began working in heavy construction. He worked on many of the hydroelectric dams along the Columbia and Snake Rivers during his years in construction.
Domingo enjoyed listening to classic Tejano music, was an avid gardener with mother and a woodworker. He also loved to BBQ and take his granddaughter and grandsons to the Dinosaur Park in Granger.
Domingo kept his independence through the use of his electric wheelchair with his four-legged daughter, Ruby, always by his side. She would ride with him and often fall asleep alongside him in his wheelchair. Ruby was even given her own pillow and blanket as the two would watch baseball and the news together, she was very special to him.
Domingo was a longtime member of St. Joseph Catholic Church in Sunnyside.
Domingo is survived by his loving children, Lupe (Linda) Castellanos of Yakima, Ed (Kathy) Castellanos of Selah, Betty Castellanos of Tukwila, Joann (Ned Becker) Castellanos of Seattle and Melinda Castellanos of Sunnyside; eight grandchildren; five great-grandchildren; one great-great-grandchild; and numerous nieces and nephews.
He was preceded in death by his wife, Ernestina Castellanos; his parents; one son, Arnold Castellanos; one brother; and one sister.
"We will painfully miss you dad, as we do mother. We know you had to go. Our family has been truly blessed and honored with the love and support of two wonderful and loving parents, who will live on forever in our hearts. We accept and know that we will all be together again. We love you dad."
Viewing and visitation will be held on Friday, March 7, 2014, from 2 to 8 p.m., with a recitation of the Holy Rosary at 6 p.m. at Smith Funeral Home Chapel in Sunnyside. A Mass of Christian Burial will be held Saturday, March 8, 2014, at 10 a.m. at St. Joseph Catholic Church in Sunnyside, with burial to follow at Lower Valley Memorial Gardens in Sunnyside.
Those wishing to sign Domingo's online memorial book may do so at www.funeralhomesmith.com.
Smith Funeral Homes Ltd. and Crematory in Sunnyside is in charge of arrangements.