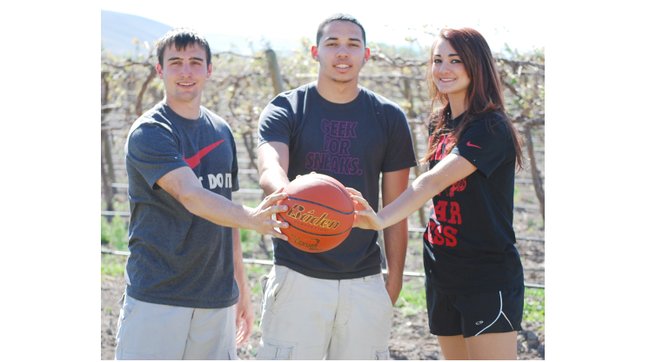 PASCO - Nearly 25 years ago the King sisters ruled the basketball court for Bickleton and excelled in sports at the community college level.
Now it's another King generation's time to do the same at Columbia Basin College.
Two of the King sisters, Tracy King and Jennifer Lovelady, played together at Pierce Community College and were later inducted into the school's hall of fame. The third sister, Michelle Oswalt, went on to play volleyball at Walla Walla Community College.
Fast forward more than 20 years later, and three of the King sisters' children are all playing for CBC.
Tracy King's son Jordan plays for the CBC men's basketball team, while Michelle Oswalt's son Brandon also plays for the CBC squad. Oswalt's daughter Lyndsay plays for the CBC women's hoop team.
Both of the teams were in action this past week during the NWAAC tourney at the Toyota Center.
How all three ended up going to school at CBC and playing for the Hawks is a story unto itself.
Tracy notes that little more than a year ago Jordan was red-shirting with EWU's basketball team, Brandon was red-shirting at Walla Walla Community College and Lyndsay was wrapping up her senior year at Granger High School.
"Jordan said, 'If I don't get my full ride to play for Eastern we should all try out for CBC, since that is where Lyndsay is planning on attending and has already been recruited'," Tracy said of how the three ended up together at CBC.
That's pretty much the scenario that played out, she notes, as Jordan received a uniform to play at EWU but did not get full tuition.
As a result, Jordan and Brandon tried out for and made the CBC men's team, while Lyndsay as expected plays for the Lady Hawks.
King notes it turned out that two of Brandon's former teammates at Granger High School, Andrew Reddout and Mitchell Zapien, also tried out for CBC and all made the team.
"It's really neat that all of the boys went to Granger and are now back together on the court," King said.
It's not surprising there's another generation of King kids excelling on the court.
Not only did the three King girls play before them at Bickleton, their father, Gordon, played basketball for YVCC under Coach Elwood Crosier.
Before playing for Pierce Community College, Tracy King also played under Coach Crosier at YVCC, winning an NWAAC championship.
Tracy notes that she and her sisters played AAU basketball together and that the current generation of King hoopsters got an even earlier start. "They were playing as soon as they could walk," she said.
Of course, the current generation playing at CBC isn't there only for basketball, Tracy notes.
Jordan King is majoring in criminal justice, Brandon Oswalt earned a diesel mechanics degree at Walla Walla and is now pursuing a business degree, and Lyndsay Oswalt is undecided, Tracy said.