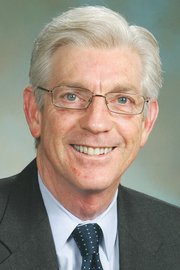 OLYMPIA - The state House of Representatives passed a partisan budget yesterday that, if adopted by the Senate, could set the stage for significant tax increases in the future.
That's according to House Republican budget leaders.
The GOP leaders say that unlike the Senate Majority Coalition Caucus's bipartisan budget proposal, which passed the Senate last week 41-8, the budget that passed the House on Tuesday of this week did so along party lines with no support from House Republicans.
Rep. Bruce Chandler (R-Granger), the ranking Republican on the House Appropriations Committee, said he can't offer support for the budget that was passed on a straight party line vote yesterday.
"This budget relies on some small tax increases now, but leaves so little in reserves to protect against unforeseen circumstances that it sets us up for much larger tax increases in the future," said the Lower Yakima Valley lawmaker.
"It fails to continue the prioritization of spending that we saw in last year's bipartisan proposal and links certain education investments to very risky tax increase proposals that voters have rejected in the past," Chandler said.
"Approving this budget would lead to more broken promises."
Chandler said the underlying bill which has already passed the Senate in a significant bipartisan fashion is a much better starting point. He said by freezing higher education tuition rates for all of the 2014-15 school years and by including more investments in opportunity scholarships, it continues to make higher education more accessible and more affordable for more students.
The bipartisan budget approved earlier by the Senate, Chandler noted, also includes more money for K-12 technology enhancements, is more conservative with future employee costs and leaves a little more in reserves.
"I believe the Senate budget has the support of two-thirds of the members in the House. I think the final budget that comes out of Olympia will look more like the Senate's bipartisan version than the House's partisan one.
"Ultimately, the people who work and pay the taxes for all this government spending expect a predictable, stable and sustainable budget. And they deserve it. We're not there yet, but we're close," Chandler said.
More like this story